JackGordon.org
(From the June 19, 1961 issue of the Seattle Times.)
FACES OF THE CITY
Jack Gordon- Holler Guy, But Self-Effacing
By JOHN J. REDDIN

Like the high-compression engine and tank of high-octane fuel that powers a roaring hydroplane across the choppy waters of Lake Washington, the power plant that makes Seattle's Seafair move is a curly-haired dynamo by the name of Jack Gordon.

Walter Van Camp, the managing director and organizing genius of Greater Seattle, is the firm hand on the wheel and steady foot on the throttle, but John Francis Gordon, the promotion and publicity expert, is the holler guy and idea man.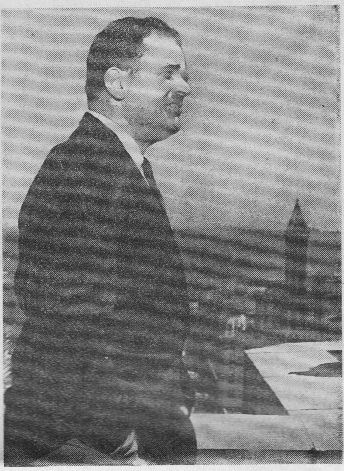 Seattle Times photograph
JACK GORDON AND SEATTLE SKYLINE
Greater Seattle is his job-and dream
GORDON'S BOUNDLESS ENERGY and enthusiasm are a never-ending wonder to veteran Seattle newspapermen, most of whom have known Jack since he was a young red-haired copyboy fresh out of O'Dea High School. Prior to the Second World War, Gordon worked for both The Seattle Times and Post-Intelligencer and, impartially, also the late Seattle Star.
During the war, the Navy assigned Jack to its "boot camp of sorts" at Pasco where he was part of that irrepressible group that included Edo Vanni, Hunk Anderson, John Gulbranson, John Kinney, Don Wood, Jack Sullivan, Jack Ryan, Willard Bergh and Jackie Souders.
"We dressed in 'civvies' for the first three or four months," Gordon recalled. "They gave us a button to wear in lieu of a uniform. When I met my parents for the first time on leave, it was difficult to explain that a button was all I had to show for four months in the Navy."
GORDON EDITED THE CAMP'S newspaper, The Sky-writer, and teamed up with bandleader Souders to stage recruiting shows for the Navy.
"That's how I got interested in doing shows and became a self-taught master of ceremonies," Gordon recalled with a mock shudder.
The war over, Gordon completed his studies at Seattle University while doing publicity and editing publications both for the university and various veteran groups. Later he was appointed national press officer of the Veterans of Foreign Wars, with headquarters in Washington, D. C., when Charles C. Rails was national commander.
Returning to Seattle, Gordon joined the staff of Greater Seattle in 1950-the first year of the Seafair-as a part-time employee. Meanwhile, he also was serving as sports publicity director for Seattle University when basketball stars Johnny and Eddie O'Brien were receiving national recognition.
At the same time, he was staging gridiron shows for the Washington State Press Club, doing numerous publicity chores and meeting more than 300 troop transports at all hours of the day and night, serving as greeter and master of ceremonies at Welcome Lane receptions for more than 500,000 troops returning from Korea.
THAT WELCOME LANE IDEA, incidentally, is something of which Seattle can be justly proud. Many returning veterans subsequently commented that "Seattle is the only city in the United States, apparently, that knows there's a war going on."
So, a belated pat on the back to AI Rochester, Harry Reed, Chet Ramage, Mrs. Gudrun Baker, L. A. (Bill) Williams, Chet Gibson, Joe Wasser, Guy Williams, Ivar Haglund, the Barclay dancers, musicians, wholesale florists and many other nice people who played a part in Welcome Lane-that spontaneous display of the old Seattle spirit which never abated or slacked off during the many months and many troop debarkations.
Always at dockside, even in wet or chill weather, or standing on a flatbed truck shouting "Hey! Hey!" into a microphone above the wail of police-escort sirens and raucous honking of automobile horns as the Army-bus caravans rolled north through downtown business canyons was the cheer leader and sparkplug of Welcome Lane-Jack Gordon.
Many of us marveled at Gordon's endurance and wondered how any person could keep up the pace (including John P. Brill, the "friendly coroner," whose office was open 24 hours a day and served as a warehouse for the serpentine, noise makers and other Welcome Lane props so they could be readily available at any hour of the day or night).
SINCE HOOKING ON full-time with Greater Seattle in 1955, however, Gordon has learned to pace himself and no longer belongs to "every organization in Seattle that charges dues."
Paradoxically, Gordon is a modest and self-effacing person.
"Probably the most misunderstood guy in Seattle," a long-time friend said recently. People seeing him with a microphone in hand sometimes figure him as a brash loudmouth, a carnival-type spieler running a flatboard and ham wheel.
Actually, Jack is fundamentally a rather shy person who naively believes that some day this sodden town will come up to his expectations. He loves a parade and is intoxicated by the music and excitement."
You are at JackGordon.org,
a salute to John F "Jack" Gordon, Mr. Seattle

Copyright © 2002-2020 John R. Gordon