JackGordon.org
News from the Seattle World's Fair
NEW PUSH-BUTTON DIALS SUCCESSFUL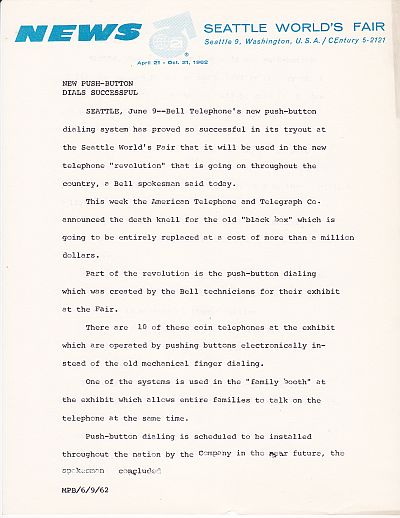 SEATTLE, June 9—-Bell Telephone's new push-button dialing system has proved so successful in its tryout at the Seattle World's Fair that it will be used in the new telephone "revolution" that is going on throughout the country, a Bell spokesman said today.
This week the American Telephone and Telegraph Co announced the death knell for the old "black box" which is going to be entirely replaced at a cost of more than a million dollars.
Part of the revolution is the push-button dialing which was created by the Bell technicians for their exhibit at the Fair.
There are 10 of these coin telephones at the exhibit which are operated by pushing buttons electronically in­stead of the old mechanical finger dialing.
One of the systems is used in the "family booth" at the exhibit which allows entire families to talk on the telephone at the same time.
Push-button dialing is scheduled to be installed throughout the nation by the Company in the near future, the spokesman concluded.
You are at JackGordon.org,
a salute to John F "Jack" Gordon, Mr. Seattle

Copyright © 2002-2013 John R. Gordon