Astronaut's Day at Plaza of States and Seattle World's Fair was May 10, 1962
Greater Seattle News Bureau. photo by Forde Photographers.
COL. JOHN GLENN, U.S. Astronaut, had a special day at the Plaza of the States, Seattle World's Fair. Here he is being introduced to the audience by Jack Gordon, Plaza of the States creator and co-ordinator.
Seattle Post-Intelligencer, May 11, 1962
It Wasn't This Crowded in Space
--(Post-Intelligencer photo)
MASSES OF World's Fair visitors crowd around Astronaut John H. Glenn Jr. (arrow) as he tours the Century 21 Exposition grounds. Everywhere he went during his tour, excited fellow fairgoers asked for autographs or tried to shake his hand. Through the day the famous John Glenn grin was much in evidence.
Greater Seattle News Bureau. photo by Forde Photographers.
During the ceremony, Glenn spoke to the crowd at the Seattle World's fair Plaza of the States. This visit to Seattle was one of the first public appearances for Glenn who had been the first American to orbit the Earth in in Friendship 7, on February 20, less than two months before his appearance at the World's Fair.
Glenn was escorted around the grounds by Washington Governor Rosellini and U.S. Senator Magnusen.
May 10 was a busy day in Seattle. In addition to this visit by Glenn, Vice President Johnson, and New York Governor Nelson Rockefeller who was at the Fair for New York State Day at the Plaza of the States.
The Seattle Times, May 11, 1962
(He's Been Higher):
Space Needle 'Just Fine,' Says Glenn
--Seattle Times photo
ASTRONAUT GLENN ON NEEDLE DECK
Lieut. Col. John H. Glenn is not one to use superlatives indiscriminately—even atop the Space Needle.
Asked by newsmen to say something about "our Needle," Glenn scorned the "fabulous," "fantastic" and "stupendous" used by other dignitaries. He said:
"It's just fine."
The astronaut appeared to enjoy the view late yesterday afternoon. And his broken-field jaunt through crushing crowds on the Needle's observation deck was both skillful and daring.
When some boys rapped on the window to get his attention, Glenn surprised by rapping back.
There was only one hitch in Glenn's brief visit to outer space. A helicopter was supposed to hover alongside the north part of the observation deck so a photographer could snap a picture of Glenn and his party.
Something went wrong with the timing or the navigational aids.
The helicopter missed target by several blocks.
From the Seattle Post-Intelligencer, May 11, 1962, Page 1
Glenn's Reply To Titov:
'God Not Limited By My Little Trip Into Space'
JOHN H. GLENN JR. reaffirmed his faith in God yesterday at Seattle. He also blistered atheistic Soviet Cosmonaut Ghermain Titov's "politically-oriented comments" here earlier this month as "ridiculous."
Titov asserted during a tour of the Seattle World's Fair last Sunday that he "saw neither angels or Gods" while on his orbital flight. Titov said he does not believe in God.
Squarely facing 3,100 scientists, engineers, students and just plain space enthusiasts, at the Second National Conference on Peaceful Uses of Space, Glenn was asked by a spectator if Glenn had seen God or angels in space.
I have never hesitated to express my religious belief," Glenn replied quietly. "I also don't think any God I believe in has to be limited to any little trip I happen to make into space."
Glenn warmed to the subject later when someone in the audience asked he thinks of Titov's statement in Seattle that he would not care to go on a mission with American astronauts due to our "failures."
"You have to keep in mind the motives behind some of their statements," Glenn said of the Russians. "I would be suspicious of whether Titov's is a real technical analysis of our missions, or motivated by some other reason."
GLENN APPARENTLY was doing a slow burn while he answered two minor questions, for he volantarily returned quite soon, to the Titov matter.
"I didn't mean to dodge," Glenn said. "A lot of Titov's comments obviously were politically oriented.
"I thought he made a rather ridiculous appraisal of our space program for one who has not been any deeper into it than he has. Especially since we got the most recent American vehicle (Glenn's Friendship 7) back in pretty good shape!"
EARLIER, and not referring to anyone in particular, Glenn said space missions are not competitive programs. He said there is plenty in space for all to discover some of it.
"Space exploration is the biggest and toughest man has ever undertaken." Glenn said.
The Seattle Times, May 11, 1962
House of Science Film Fans Relax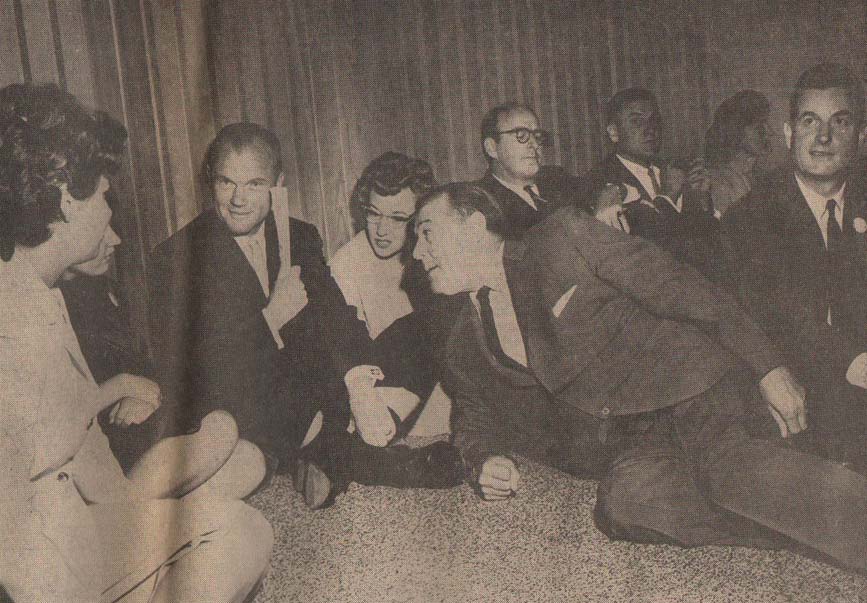 --Times photo by Vic Condiotty
DOWN TO EARTH: Astronaut John H. Glenn Jr., chatted with Senator Magnuson, reclining, before a film in the House of Science Pavilion yesterday. All spectators sit on the floor. Glenn sat between Mary Rainforth, 16, and Mrs. Richard Rainforth, his Lake Forest Park hostess. At right was Willis Camp, World's Fair official.
Seattle Post-Intelligencer, May 11, 1962
Tumultous Reception For 'Pied Piper' Glenn
Lt Col. John H. Glenn Jr., the nation's foremost hero and beloved symbol of America's hopes for Space Age supremacy, received a tumultuous welcome to the Seattle World's Fair yesterday.
From the moment the No. 1 astronaut stepped from the red monorail train on the fairgrounds he was peppered with unrestrained cheers, applause and requests for autographs.
SEVERAL hundred persons shouldered up to the monorail terminal on the fairgrounds and fell in behind Glenn as he walked briskly to his first scheduled stop at the American Library Association exhibit in the Washington State Coliseum.
Like a latter day Pied Piper, Glenn attracted hundreds more as he moved across the grounds. His reception was only faintly reminiscent of that accorded Russia's leading astronaut, Gherman Titov, last week. While fair crowds had given Titov politely restrained applause, Glenn received uninhibited shouts of admiration from the throngs.
HE WAS THEIR BOY—and they let him know it.
But the basic difference between Titov and Glenn and the cold war ideologies they champion was revealed at a brief press conference at the U.S.- Science Exhibit.
Titov, while in Seattle, had said he does not believe in God and had facetiously remarked that he had failed to see the Almighty during his workouts at recent speaking orbits of the earth. Asked about Titov's remarks, Glenn declared soberly:
"I AM AFRAID the God I believe in isn't small enough that I could see him in outer space."
Glenn was the leading member of a star-studded cast of visitors at the fair yesterday. The ample lime-light was shared by Vice President Lyndon B. Johnson and New York Gov. Nelson Rockefeller.
BOTH GLENN and Johnson were here for the Second National Conference on the Peaceful Uses of Space, at which Johnson was the principal banquet speaker last night.
Rockefeller's visit was in connection with New York State Day at the Fair, celebrated with the now traditional ceremony at the Plaza of States.
THE VICE PRESIDENT had been scheduled to ride the monorail to the Fair with Glenn but he stayed behind in his hotel room to nurse a sore throat. Johnson's drawl has been given heavy workouts at recent speaking dates.
Because of Johnson's incapacity, dedication of the National Aeronautics and Space Administration exhibit, set for 10 a.m., was postponed until noon.
FAIR PRESIDENT Joseph E. Gandy asked Glenn if he would care to announce the postponement to the crowds, in front of the NASA exhibit. Looking briefly bewildered in the midst of the teeming throngs, Glenn replied: "Someone who knows something about it should do it — I don't know what I'm doing."
AFTER TOURING the American Library Association exhibit and the NASA exhibit, Glenn moved on to U.S. Science Pavilion. During the afternoon he participated in dedication of a plaque honoring Sen. Warren G. Magnuson, at the Plaza of States, and in a televised science panel at the Opera House.
Glenn was accompanied on his fairground's tour by Magnuson and rocket scientist Dr. Wernher von Braun. Also at his side was the Richard Rainforth family of Seattle, with whom Glenn, had spent the night. Rainforth like Glenn, is a marine lieutenant colonel and the two were Korean war flying buddies.
The Seattle Times, May 11, 1962
Fair Praised For Handling Of Glenn's Visit
The Seattle World's Fair today received a word of thanks and praise for a job "well done" in handling the visit of John H. Glenn, Jr., yesterday.
"With the crowds and the constant changes of itinerary, we thought there might be problems but everything was handled with enormous grace," Harry De Voto, a National Aeronautics and Space Administration official, said.
De Voto said the handling of Glenn's visit "gives us an impetus to invite more and more of our top men to the fair. We know that Century 21 can take care of anyone."