Home > Greater Seattle and Seafair > The Billboard review of 1951's Rose Marie

JackGordon.org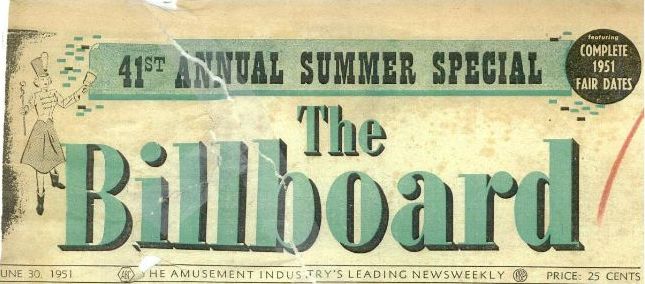 JUNE 30, 1951
Page 42
News Review:
Seattle Aqua Preem Draws
SEATTLE, June 23. -- Greater Seattle Inc.'s Light Opera summer season at the Aqua Theatre here got off to a better than average preeming June 14, 15, 16, with a total of 8,400 customers paying over $7,500 for the three-day run of Friml's standby Rose Marie. Ducats were tabbed from 75 cents to $2.25 in the 5,200-seat lake arena. Attendance breakdown revealed 2,100 pewsitters for Thursday (14); 3,100 for Friday (15); 3,000 for Saturday (16).
Tom Herbert's staging of Marie was fairly streamlined with Frank Kincaid narrating some of the story transitions from a high stage right cubicle. The tale of the Indian gal stood up pretty well, altho some of the expository narration could well have been cut -- especially at the bridges. Also the horizontal blocking of the show, most pointedly in spec scenes, appeared on the obvious side. This is a problem which Herbert will have to face in future productions, working as he does, with a stage which does not boast a great deal of depth.
Virginia Card, imported for the title role was easy on the eye and more than vocally competent. John Wollenweber's Jim Kenyon balanced the romantic interest with a well projected tenor, while Chris Kimsey and Walter Snellenberg squeezed every yuck out of the tired old book. Chorus was well intregrated, and the Seattle Symphony under Gustave Stern was top-notch.
Jack Gordon, of Greater Seattle Inc., predicted that the venture can really bvecome a b.o. steady, especially as the tourist season here goes into full swing. In cooperation with the Seattle Park Department, Greater Seattle has skedded The Student Prince for June 28, 29, 30; Blossom Time for July 12, 13, 14; and H. M. S. Pinafore for August 15, 16, 17.
Wil Stevens
You are at JackGordon.org,
a salute to John F "Jack" Gordon, Mr. Seattle

Copyright © 2002-2017 John R. Gordon