JackGordon.org
PAGE SIX THE SKY-WRITER, PASCO, WASHINGTON, WEDNESDAY, November 17, 1943

[There is no Swabbin' the Deck column in this week's issue. Instead we offer a story on the Pasco-Ellensburg basketball game by Guest Columnist "F.L.Ash" and a copy of the entire sports page from this November 11 issue.]
Ellensburg
Soldiers
Scuttled
Jimmy Reese, the former Wyoming University hoopster, lived up to the reputation of his National Champion alma mammy last Friday night, pacing his Pasco Flyer basketball mates to a 45-16 victory over the Ellensburg Army Base Hawks in the Drill Hall court.
The Tarmac-Pasco Flyer basketball squad will trek to Walla Walla next Friday night, to play the Whitman College Navy V-12 hoopsters. A ten man squad will make the trip, which will be the last game of the season for the Tarmacs.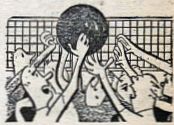 Forward and former Portland Coast League baseball player, who copped high scoring honors with a 14 point effort. Rich and Al Suggs, Army guard, were the only soldiers to crack through the tight Flyer defenses.
The Flyers grabbed are early lead which was never endangered and had a 10 margin at half time.
Ray Rieder and George Gablehouse stood out in the Flyer lineup, Rieder scoring 10 points while Gablehouse hit the hoop for eight. A second game, scheduled for Saturday night, was can­celled.
You are at JackGordon.org,
a salute to John F "Jack" Gordon, Mr. Seattle

Copyright © 2002-2013 John R. Gordon