Good-time Charlie's Inc.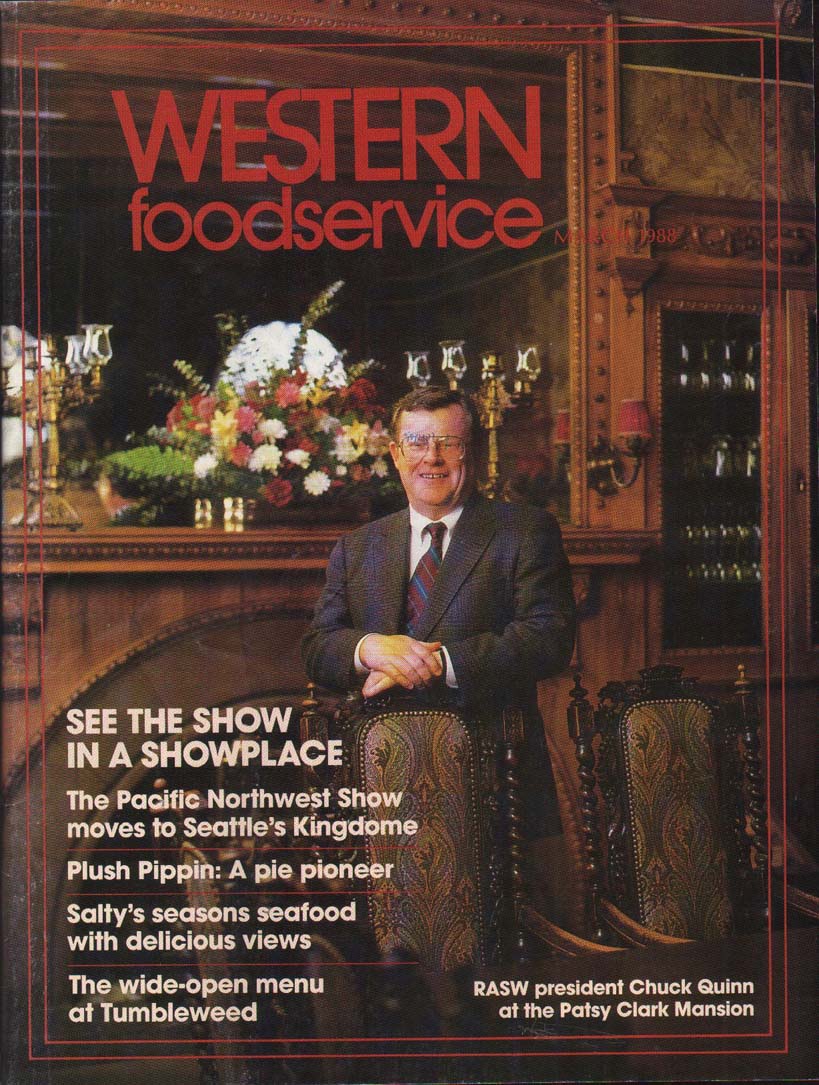 Chuck Quinn presides over fun, funky restaurants, a major miner's mansion, and an operators' association to boot
Chuck Quinn, president of the Restaurant Association of the State of Washington (RASW), has two good reasons why restaurateurs should join the group: "All kinds of people benefit from it," he says. "And we have a lot of fun."
Lord of the manor: Chuck Quinn stands before one of the nine fireplaces in his one-of-a-kind Patsy Clark's restaurant, housed in a turn-of-the-century 26-room mansion. When guests ask if there are ghosts, staffers are trained to say yes.
Good goals. Quinn's association will be in the spotlight this month, as RASW hosts the 1988 Pacific International Hospitality Show at Seattle's Kingdome [please see our show story on page 19]. Quinn's two-year tenure as RASW's chief has been a significant one for the organization. Starting with a membership base of 1,800, he is closing in on his goal of building a roster of 2,200 members by the time he leaves office this summer. RASW is also close to establishing a joint membership program with the National Restaurant Association. RASW members have already begun profiting—literally—from the association's new retrospective rating plan, which grants RASW members reduced payments as well as rebates on workers compensation premiums.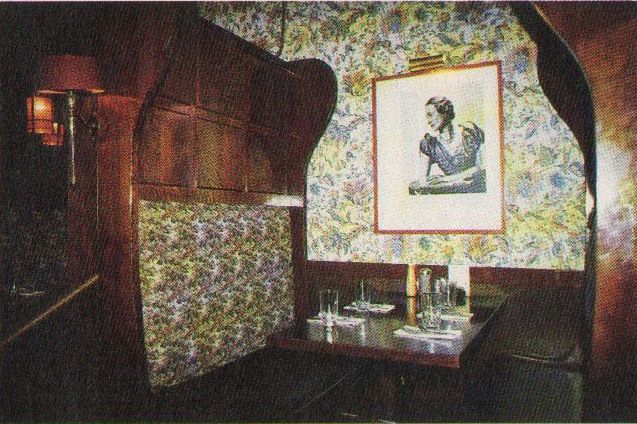 Dining with the Duchess: Portraits of famous figures of the '30s gaze on guests at Charlie's in Seattle.
Quinn himself has been a RASW member since he started out as a restaurateur. After studying at Washington State University's hospitality school and a stint in the Navy, Quinn teamed up with Rich Komen in Komen's concessions business, Volume Services. By 1971, Komen had sold Volume Services to concentrate on opening restaurants. Operations such as Horatio's and Clinkerdagger's, which were short on menu offerings but long on theme decor, formed the basis of Komen's present-day restaurant powerhouse, Seattle-based Restaurants Unlimited.
Hello, Charlie's. The dinnerhouses that he and Komen started "went like gangbusters," Quinn recalls, and he soon had his own restaurant bug. He struck out on his own in 1974, and within a year was operating three Black Angus franchises with new partner Ken Bauer. In 1976, Quinn switched from a limited-menu format to an extensive menu at Charlie's Bar and Grill in Seattle. Quinn and Bauer kept the Charlie's coming, with a restaurant opening in Bellevue, Wash., in 1978, in Olympia, Wash., in 1980, and Tualatin, Ore., in 1985.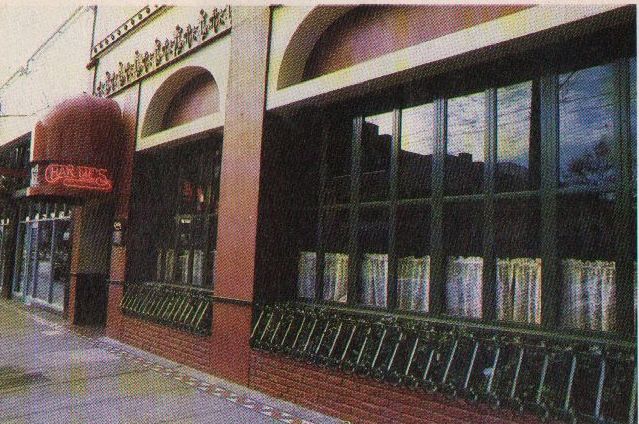 That's close: "Charlie's" was as close to a namesake as Chuck Quinn could get with a restaurant--"'Chuck's' was already taken," he notes.
In contrast to the fun and funky Charlie's, Patsy Clark's is a dinnerhouse grande dame. The restaurant is located in the Spokane, Wash., mansion of 1890s mining magnate Patrick Francis (Patsy) Clark. Quinn and wife LeAnn and partners Ken and Chris Bauer and Tony and Kay Anderson bought the property in 1977, but it took five years of ironing out ordinances with the city before the restaurant could open. Now on the National Register of Historic Places, Patsy Clark's is a popular site for weddings and wine tastings.
Varied menu. The operations of Charlie's Inc. today comprise the four Charlie's restaurants, Patsy Clark's, and Duke's in Reno, Nev., which is a converted Black Angus. The smallest restaurant is the Seattle Charlie's, which seats 124 for dining and 60 in the lounge; the largest is the Tualatin Charlie's, which seats 120 for dining, 60 in the lounge, and 300 for banquets. The Charlie's restaurants are open for lunch and dinner and command average checks of about $10 per person for food only. The Charlie's menu lists salads, egg dishes, sandwiches, burgers, pasta, seafood, chicken, and beef. Signature dishes include the Three Steak Charlie, three tenderloin medallions, one topped with crab and bernaise, one with shrimp and hollandaise, and one with mushrooms and bordelaise.
Quinn estimates that total sales for his six restaurants will hit $8.2 million this year. Overall, alcohol accounts for 36 percent of sales, but the figures for the individual restaurants vary. At the Bellevue Charlie's, for example, which has a disco, alcohol makes up nearly 50 percent of total sales. At Patsy Clark's, on the other hand, liquor accounts for just under 25 percent of sales. "But Patsy Clark's sells more wine than anyone else in eastern Washington," Quinn points out. He sees some softening of the health and drunk-driving concerns that have dampened alcohol sales, noting, "our liquor sales are rising.
What's new? Quinn promises that Charlie's Inc. is in an "acquisition phase," as he puts it. "We're looking to expand with existing restaurants in good sites that we can buy—cheap!" he says. "The question is, what is the hot new concept? And the answer is, there isn't one. Today, the new concepts are the old ones."