PAGE 6 and 7
THE Progress, October 17, 1969
'New Breed' seminarians find rules, discipline necessary
for being 'servants to God's people'
"The whole seminary program, permeated with a cultivation of reverence ... and with a concern for mutual help, should be structured as, a kind of introduction into the life which the seminarian will lead as a priest."
VATICAN COUNCIL II-Decree on Priestly Formation
There is an element present in a seminary education that is missing from most other institutions of learning: a singleness of purpose, one common goal.

In the seminary, this singleness achieves the loftiness of high dedication as faculty, lay employees, and even the religious engaged in domestic duties, strive together to educate, encourage, and inspire those young men who believe they have been chosen by God to become his priests.
You become aware of this singleness almost as soon as you enter St. Edward's Minor Seminary at Kenmore.
While there is the usual air of tranquility that is associated with the groves of academe (or was, at least, until recently), there is an undercurrent, a dynanism, at St. Edward's that is sensed rather than felt or seen. While there is bright, young laughter, lots of intramural banter, one senses from even the most casual mien, this is a place of serious purpose.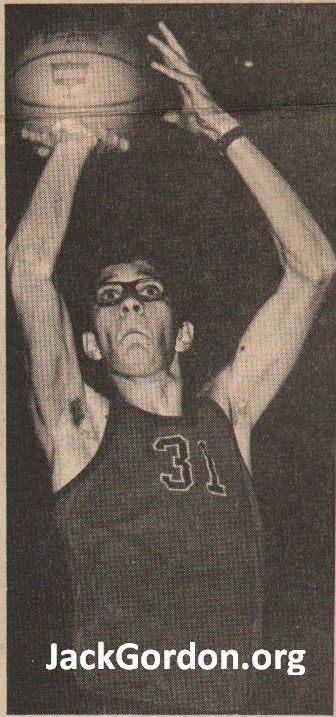 At St. Edward's Minor Seminary there are 83 students, under the instruction of ten Sulpician priests. They have been brought together at Kenmore for one purpose - to prepare the boys for the priesthood.
This past week, on Oct. 13, St. Edward's was 39 years old. Its cornerstone was set on that date by the then Apostolic Delegate to the US, Archbishop Pietro Fumasoni-Biondi, who presided at the ceremonies. There were 51 candidates for the priesthood during its first academic year. Its first graduating class was ordained in June, 1939. Since then more than 300 priests, serving mostly in the Northwest, have received their sacerdotal education at Kenmore.
Aware that the original facilities at St. Edward's were becoming crowded, Archbishop Thomas A.. Connolly planned and completed construction of St. Thomas the Apostle Seminary, adjacent to St. Edward's, to house the major (college and theological students) seminary, and use St. Edward as a minor, or preparatory, seminary. In 1968, St. Edward's status was again altered slightly to become the high school department of the Sulpician Seminary of the Northwest.
The Sulpician priests, who form the faculties at the seminary high school, and the minor and major seminaries, are a unique group of men whose sole apostolate is the education of young men for the priesthood.
The Society of St. Sulpice was organized in Paris in 1640. Its founder was Abbe Jean Jacques Olier, who formed the society on the belief that candidates for Holy Orders should have the best possible preparation with teachers dedicated exclusively to this purpose.
The Sulpicians came to the United States in 1791 and founded the nation's first seminary (St. Mary's) at Baltimore, Maryland. The Society now conducts seminaries in that city, Seattle, San Francisco, Detroit, Honolulu, San Francisco, and Louisville in this country as well as numerous institutions abroad.
They are unique in that the Sulpician is a diocesan priest (unlike the Jesuits, Benedictines, Augustians, etc.) who remains incardinated, or under the jurisdiction of the bishop of his own diocese.
Father Paul L. Gregoire SS is president of St. Edward's, a post to which he was assigned by the Society in 1967.
The Sulpicians hew very close to the guidelines set down by the Counciliar Fathers on priestly formation. They strive to "develop in seminarians a "due degree of human maturity, attested to chiefly by a certain emotional stability, by an ability to make considered decisions, and by a right manner of passing judgement on events and people."
'Old grads' (and others) meet for St. Edward's Alumni Day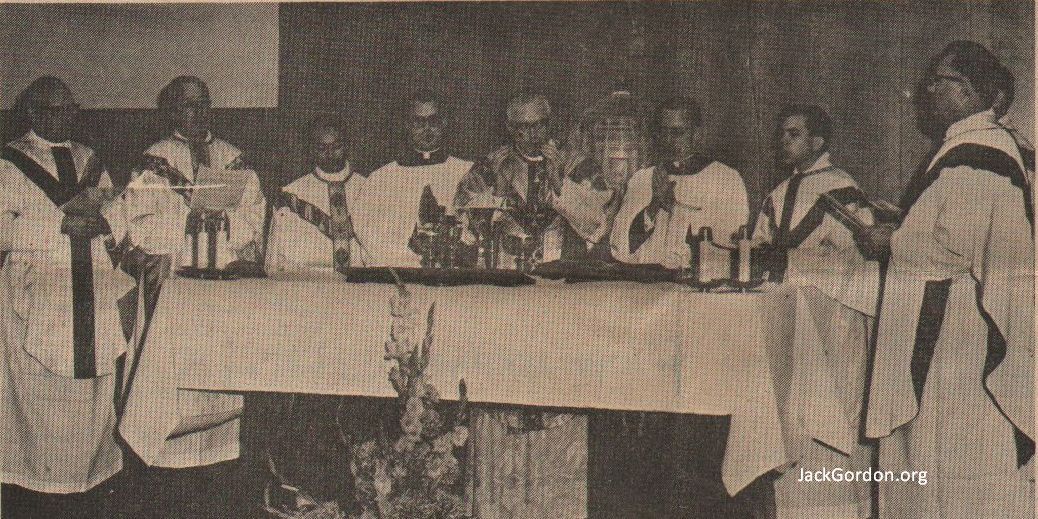 The new student at St. Edward's has a few problems of adjustment but, according to the priests, "they iron themselves out." Many of these boys have gone to the seminary directly from grade school. While the quick disassociation from their homes, families, and friends need not be traumatic, it does follow that adjustment to a totally new environment can have difficulties for some of the students.
As has been noted before, today's "New Breed" of seminarians has a pretty good idea of where they are going and why. They accept the discipline set down as something necessary to the communal life they live ind do not seem to find it too restricting.
Because no private television sets are allowed in their individual rooms, several of the students deplored their inability to get sports programs in which they had special interest i.e. to watch a football game when the TV in the recreation room was showing the World Series. Trivial? Of course, and the pigskin fans admit it with a shrug: "Well, I guess most of the guys want to watch the Series and I can see plenty of football after it ends." ("The right manner of passing judgement on events...").
Incidentally, while no student may have a TV set, he can have a radio and/or record player to be used within the time limits allowed for recreation. So, with the radio and papers in the library, the boys are well aware of "what's going on" in the world and in their city. The Middle Age concept of seminarians being cut off from the world seems slightly funny to St. Edward's young men.
The seminary rules provide a framework of responsible conduct. The boys do not find them cause for dissatisfaction. For example: smoking is verboten. Because it is "sinful?" Hardly: It is forbidden since the boys are under the age set by state law for the legal use of tobacco. So, it is barred.
Again, this may be trival, but it is indicative of the developing maturity of the students as they accept cheerfuly the regulations and the purpose for which they are imposed.
In their consideration of the priesthood as a career of service to all of God's people, St. Edward's young men know they must "empty themselves" of many of their own personal whims, caprices, and inclincations.
"Discipline is tough", one junior, whose family lives in St. Mark's parish, said "and it isn't always easy, but it is a condition of growth and once this is realized, discipline becomes more acceptable."
He paused and looked across the greenward in front of the seminary building and added, almost to himself, "The acceptance of discipline is not the passive acceptance of slavery; you retain your individuality, you must know compliance is best for you and the community you're living in. Rebellion may be courageous, but too often it is selfish, self-centered. And here we can learn to purge ourselves of these traits by keeping regulations."
When it is remembered the age of the St. Edward's student is that of the average high-schooler, such comment indicates they are already along the way to that "degree of... maturity" Vatican II found so necessary for seminarians.
What is the regime at St. Edward's?
The boys are "up and at 'em" at 6:45 am and are due in the second floor Chapel at 7:05 for morning prayers, all of 10 minutes. Breakfast is served at 7:15 (Wednesday and Saturday at 8). Following this, the students return to their rooms and make their beds and tidy up, an experience new to many on their admission.
There are four class periods before noon, with a five minute break between each. At 11:45 am, the boys assemble in the Chapel for daily Mass (Wednesday and Saturday it follows morning prayers) and then proceed to lunch at 12:30 pm. Classes resume at 2 pm, followed by a long recreational period (usually outdoors and comprised of athletic activities) until 4:20, when all participants take showers. One class is held at 4:40 pm. Tuesday and Thursday after­noons are free, but there are classes Saturdays.
The miscellaneous regulations are those that might, govern any well-run household of some 100 members. The boys do not wear clerical garb but are dressed tastefully in dark suits with additional clothing for casual and sports wear.
They arrange for their own laundry; keep their hair trimmed at an acceptable and presentable length; take care of the seminary furniture and other property and respect the possessions of their schoolmates; enjoy themselves with fun and games but never grow too rowdy or boisterous; maintain silence from night prayers until after morning prayers; refrain from visiting between rooms except when necessary and only then with property authority.
The curriculum, accredited by the Washington State Board of Education, covers Religion, English, Latin, Music and Physical Education for the freshman and sophomore years. Algebra and History, taught in the first year, yield to Biology and Geometry in the second.
The third and fourth years provide studies in the standard subjects with the addition of such electives as French, Physics, Mathematics, Russian History and Debating.
While much stress is laid on the intellectual development of the young aspirant to priesthood, his physical well-being is not neglected by any one's standards.
This past week saw the opening of the seminary's new, Olympic-size swimming pool, the gift of Frank J. Wald, in memory of his daughter, Carole Ann, and the Serra Club, an organization of business and professional men dedicated to fostering priestly vocations. The new swimming facility will provide for acquatic sports and activities on a year-round basis.
Under the tutelage of Father James Healy SS, St. Edward's cross­country team has already chalked up a couple of victories over teams from Bellevue Christian and Watson-Groen schools and are out nearly every day attempting to cut seconds off their running of the 2.3 miles of the St. Edward course. Father J. Michael Strange SS serves as Father Healy's assistant in conditioning the hill-and-dalers. Both priests expect much from Doug Crane, Bill Antone and Frank Osterhaus in this sport.
Basketball, so popular among the schools in the Northwest, is not neglected at St. Edward's. Because of the small student body, Father Healy does not have an unlimited wealth of material to draw from, but what he does have is capable and enthusiastic. Breaking away from the temptation to call themselves the obvious "Saints" or "Teddies", they have chosen a nickname consistent with the school location on Lake Washington and a truly pro court team, the "Lakers." The school colors are royal blue and red.
Father Healy's charges play their first court game in December when they go against a fast, brainy quintet from King's Garden Christian School. This club, from a comparatively small school, played Cinderella basketball last year and won the championship in their class. The Knights will place almost the identical team on the boards this year, Father Healy said, and his Lakers expect trouble.
Other teams on the basketball schedule are Lakeside, Tahoma, Skykomish, Mt. Angel (Ore.) and Mater Cleri (Spokane). It is also hoped they will be matched against Blanchet and J. F. Kennedy's JV's.
Great things are expected from Gene Haydu, Jon Gorski, Terry Russell, John Ruhl, Paul Meyer, Bill Antone and Dennis Orlowski on the court, Father Healy said, with a strong, optimistic tone.
The boys' spiritual education is not limited to classroom, lecture hall and chapel. Father Carl E. Wingate, who recently came to the Northwest from St. Mary's Seminary, Baltimore, serves as coordinator of apostolic activities, as well as teacher of biology, Greek etc.
He has formed, what could be called a club, of students interested in apostolic work. One of the programs is to make a weekly journey to Fircrest (Tuesday afternoons when they are free) to assist in the physical therapy groups. About 32 boys make the weekly trip to aid patients in locomotion, muscular control, coordination, and other exercises, under the supervi­sion of the professional therapist. Because these exercises are so vital to the overall patient physical rehabilitation, the St. Edward student's contribution is an important one.
In addition, it provides them with first hand contact with those less fortunate in body and mind, enabling them to learn, first-hand, techniques that will prove invaluable should they eventually assume pastoral responsibilities.
There is one aspect of seminary life that does not receive too much public attention, but looms high in importance in the students' daily life: food.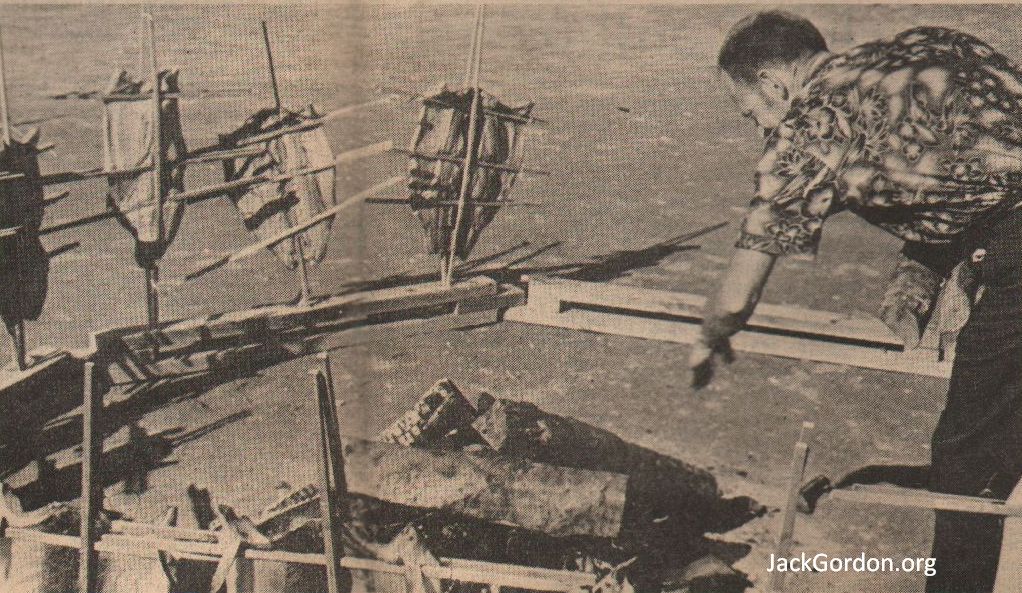 Like all growing, healthy boys, St. Edward's students' minds are never too far removed from the kitchen and at Kenmore that highly sensitive area is in capable hands. In charge of the cuisine, if one may use that word, are sisters of the Little Daughters of St. Joseph, whose motherhouse is in Montreal, Canada.
These sisters have such domestic work as their apostolate almost exclusively and they staff the kitchens of many of the country's seminaries. The sisters at St. Edward are under Mother Superior Sister Antoinette PSSJ and are Sisters Marie-Teresa, Eustelte, and Marie Anne.
The preparation of all meals for the students and faculty is under their charge, as well as the maintenance of the kitchen and dining room areas. Another group of the same order of sisters performs a similar service at St. Thomas Major Seminary.
Anxious to have some sampling of the students' reaction to the minor seminary, its courses, faculty, and impact on their lives, the Progress reporter wandered around the campus, through the halls, and sat in the dining room, asking the boys "What do you think of St. Edward's?" and "Do you think you are moving closer to the priesthood?"
The boys all asked that their names be omitted from the comment they otherwise gave freely.
Student No. 1 - "I thought I was a pretty good scholar until I came here. Now I see there are other fellows, from other parts of the archdiocese, who are really bright. So, I have to study hard to keep up with them ... and with my own opinion of my ability. That is good for me ... I have a challenge to maintain a guuu average that I didn't find in elementary school. As for the second question :The answer is'Yes' ... I think every day brings me closer to being a priest ... more spiritually, I think than intellectually."
Student No. 2 - "I really don't know about being closer to the priesthood. I have learned more about the real meaning of a vocatior since I came here and I am not a? positive as I was a couple of years ago. I have been told such questioning of oneT goals,' at this time, is good. I hope so. Otherwise, St. Edward's has been good for me. I have learned to think more of the other fellow. I like the teachers and the students. Considering everything, I'm happy here and will be more so, if I can just know for certain that I am capable of being a priest."
Student No. 3 — "I'm okay ... it's my family that bugs me, not St. Edward's. I'm an only son and my parents don't think too much of my being ordained. St. Edward's has to convince them about the priesthood, not me."
Student No. 4 — "It's alright, I guess I have only been here since school started ... I guess I haven't gotten into the routine yet... classes on Saturday? ... ugh! ... but maybe if I last through the freshman year, I'll be fine ... but these few weeks have been tough."
.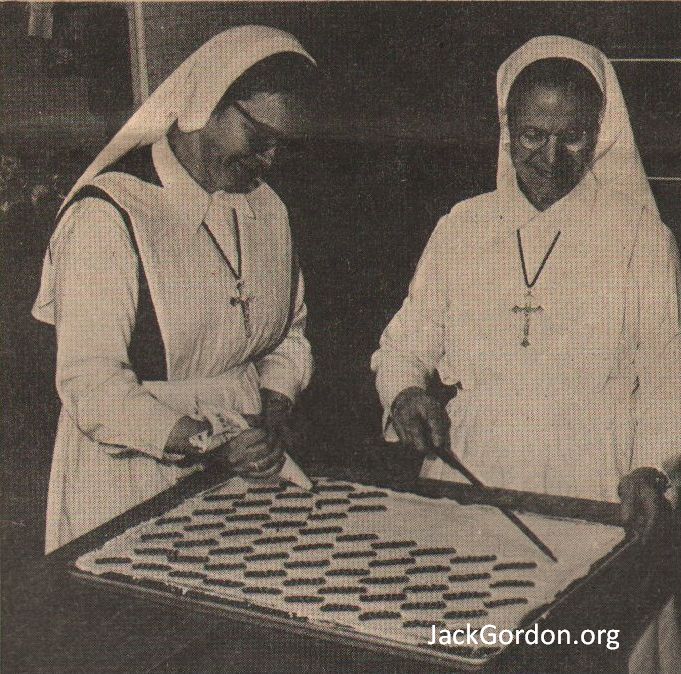 Student No. 4 - "The fathers kind of throw you off. I came -to St. Edward all set to be ordained the next week. The Sulpicians have a nice way of cooling your enthusiasm by pointing out 'many are called but few are chosen' and that the chosen few have to spend a long time developing in knowledge and grace. Ordination is still my goal, but some how, I don't think I'll make it for a while, yet."
Student No. 5 - "This is tough, don't think it isn't. For some of these fellows, I guess it's a breeze, but not for me. Study comes tough for me and I have to work hard at it. I have had a couple of times in the past year when I figured I'd call home and ask Dad to come and pick me up. But I survived each crisis so far, and I am gathering a little more hope with the passing of the tests. I know now, I'll stick it out as long as I can because I ; do want to be a priest."
Student No. 6 - "Everything is fine, except I don't get as much to eat as I did at home ... that's nobody's fault, I just like to eat, that's all."
Under Father Gregoire, is Father John W. Bowen SS, principal and teacher of History, Religion, Driver Education, and sometimes infirmarian who knows what to do until the doctor comes. The doctor, incidentally is Emmet F. McKillop MD, who in addition to making a call on a regular day each week, is available immediately should his services be needed.
Other members of the faculty are:
Fathers Frederick Chudzinski, James J. Healy, Roland Leveille, Clayton Meyer, J. Michael Strange, William Thielemann, Joseph White, and Karl Wohinc, Sulpicians all, assisted by Father Carl Wingate and several deacons from St. Thomas.
The words of the Apostolic Delegate, Archbishop Fumasoni-Biondi, on the occasion of the laying of the cornerstone 39 years ago, have a prophetic ringing note that I realized with each passing St. Edward's:
"To this seminary will come young men of this section of America who aspire to the priesthood; here, they will be taught to love America, which has been so abundantly blessed by Divine Providence, but they will be trained especially in the knowledge and love of God, Whom it will be their duty to make better known and moreloved by their fellow-citizens. These young men will become the leaders of the Christian people, the pride alike of their Church and their Country."
Carol Ann Wald Memorial Pool at seminary dedicated