Home > Seattle University Sports > Chiefs Impressive in Trouncing

JackGordon.org
Seattle University Basketball from 1949-50
Chiefs Impressive In 67-36 Trouncing Of Lewis & Clark
SATURDAY, DECEMBER S, 1949
By RANDY ARCHER
Apparently recuperated from its early season setbacks, Seattle University's basketball team ran up an impressive, 67-36 triumph over Lewis and Clark College of Portland here last night.
The Seattle five was just too much for last year's Northwest Conference champions as it jumped to an early 17 -5 lead and held a margin of 30-17 at half-time.
The Chiefs' Bob Hedequist, Hal Rose and Bill Higlin helped set the fast pace throughout the game, with the latter two gathering 13 points each to Share high-scoring honors, folowed by Hedequist with 10.
The second-half scoring splurge by Seattle U. rarely was hindered by Lewis and Clark, and Chieftain Coach Al Brightman sent in his reserves after the safe lead had been established.
It was Lewis and Clark's first game of the season.
In the preliminary, S. U.'s Frosh Papooses overcame an 27-25 half-time deficit to dump Olympic J. C, 62- 49.
Ed and John O'Brien,the Papooses' twin-brother act, counted 17 and 14 points, respectively.
Seattle U.'s next game will be with Washington State at Pullman next Friday, while Lewis and Clark remains here to take on Seattle Pacific tonight at Seattle U. with a frosh preliminary between the Falcons and College of Puget Sound at 6:30.
[editor's note from 2017: There's no way I'm OCRing and correcting the stats. Here they are as originally printed]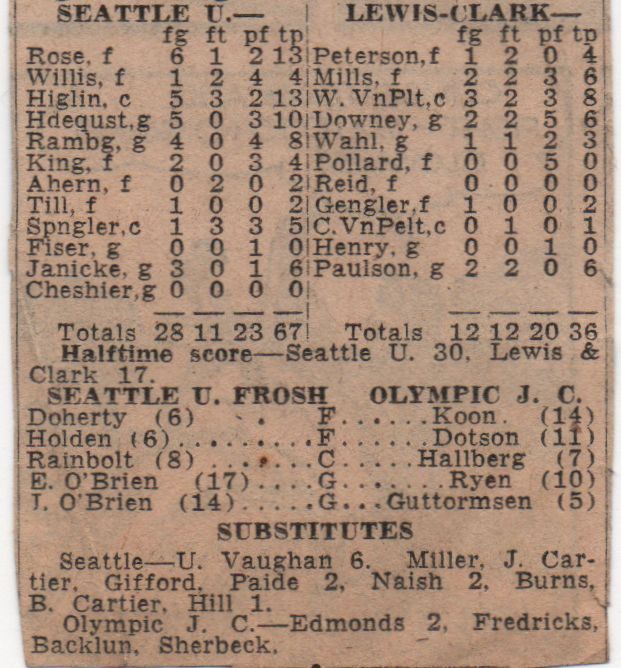 You are at JackGordon.org,
a salute to John F "Jack" Gordon, Mr. Seattle

Copyright © 2002-2018 John R. Gordon