JackGordon.org
From the Seattle Post-Intelligencer, May 11,1969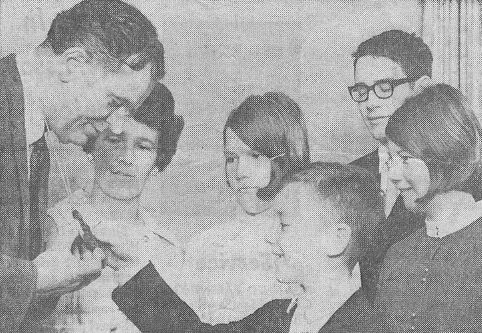 --P.I.Photo
JACK GORDON FAMILY VIEWS S.U. AWARD
Roberta, Mary, Joe, John and Ann shared honor
Jack Gordon Gets SU Honor
John F. (Jack) Gordon was the recipient yesterday of the Seattle University Alumni's Distinguished Service Award, presented at the Annual Spring Awards Luncheon at the university.
Gordon was named "Official Greeter" for the City of Seattle by Mayor Floyd C. Miller, and "Jack Gordon Day" was proclaimed by the Mayor and the Washington Senate.
Serving as master of ceremonies for the banquet was King County Executive John D. Spellman, Class of '49. Among the local dignitaries taking part were S.U. alumni William Boeing, Jr., and City Councilmen Don Wright and Sam Smith.
Featured speaker of the day was The Rev. Neil G. McCluskey, S.J., former teacher in Seattle, and now visiting professor of education at Notre Dame University.
Speaking on the subject of the relevancy of Catholic higher education, Father McCluskey made these points:
"We are living in a true social revolution. Catholic higher education is relevant as long as we have something to contribute to contemporary society.
"Catholic means universal in time as well as place. There are Catholic institutions waiting to be buried because these truths have not come home.
"We have inverted our responsibilities, those which should remain in the home. We can experiment happily here with no restrictions in ecumenism.[That is why in 2008, Seattle University's School of Theology had a female Muslim/Episcopalian professor.]
"Non-Catholics can bring universality to Catholic universities. We have so much in common with other religions in education that we cannot help but strengthen each other. To be truly Catholic on campuses, we must have the feed-in of other religious beliefs."
Gordon's award, given annually to an outstanding alumnus in terms of service to, the community and the school, was shared by his family — wife, Roberta, John, 15, Mary, 13, Ann, 12, and Joseph, 8.
Gordon said of his award:
"It is not my intention to decline this award, but rather to accept it conditionally, on the promise that, God willing, I will merit your confidence by future deeds and service.<.p>
You are at JackGordon.org,
a salute to John F "Jack" Gordon, Mr. Seattle