JackGordon.org
President Dwight D. Eisenhower visits Seattle for the
National Governors' Conference during August of 1953.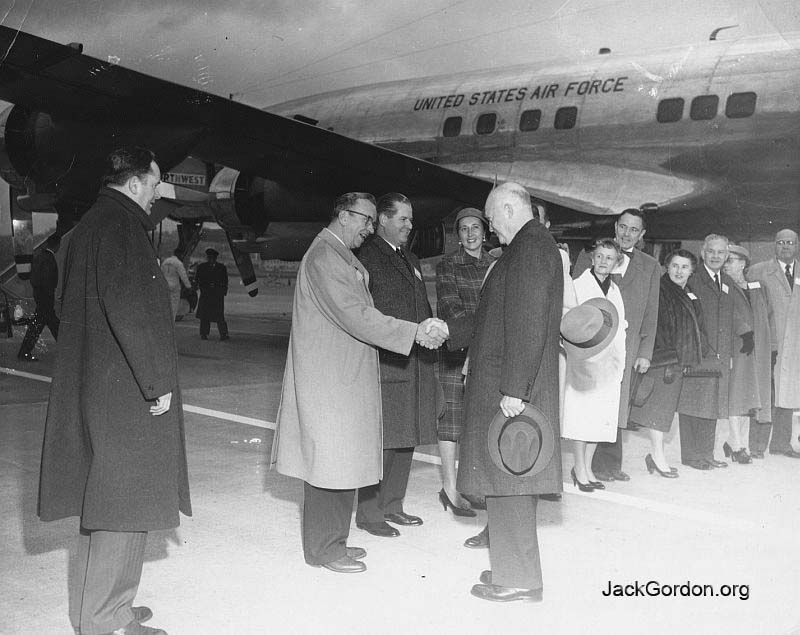 photo credit: The Seattle Times
United States President Dwight D. Eisenhower shakes hands with Greater Seattle's Manager Walter Van Camp, shortly after the President arrives in Seattle in August 1, 1953. Jack Gordon (probably Chairman of the Welcome) stands to the left.
According to the June, 1953, issue of the "Greater Seattle Newsletter," this was the "most important" national governors' conference in 20 years. The conference brought governors from all 48 states, and five territories to Seattle to meet with relatively recently elected President Eisenhower. The group was in Seattle from August 2 through August 5.
Governor Langlie headed the committee which played host to the President and Governors.
According to the GS Newsletter, the President and Governors were scheduled to meet a troopship from Korea arriving at Seattle's "Welcome Lane" during the conference. General Mark Clark promised that at least one man from each state and territory would be aboard the rotation ship. While the GS Newsletter said that R.C. Torrance, 1952's president of Greater Seattle, Inc., was handling the plans for the governors' participation in the welcome, odds are that Jack Gordon, Welcome Lane Chairman since 1951, planned this welcome just as he had already planned and run hundreds of welcomes for hundreds of thousands of troops returning from Korea
This was the first of many Governors' Conferences that Jack was involved with.
You are at JackGordon.org,
a salute to John F "Jack" Gordon, Mr. Seattle

Copyright © 2010, 2011 John R. Gordon