JackGordon.org
Bill Pardee (1922-2004),
Everett restaurant operator
1967-8 RASW President and 1972 Man of the Year


Bill was president of the Restaurant Association for the 1967 term (July 1, 1967, through June 30, 1968). He and Patti were owners of Pardee's Restaurant at the corner of Broadway and 11th in North Everett. Bill was named Restaurant Man of the Year by the Restaurant ASssociation for 1972, receiving his honors at the restaurant convention in April of that year.
A nice portrait of Bill. Probably later than his '67 term as he didn't have a mustache then.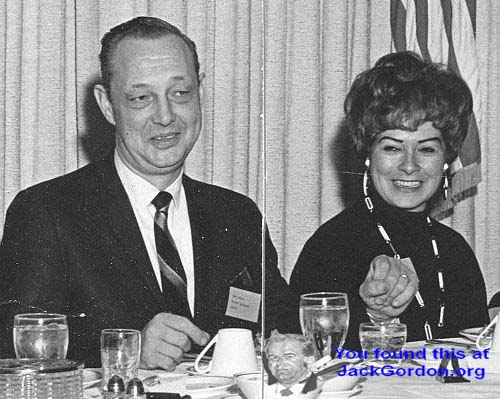 Bill and Patti at a restaurant association dinner event. (This picture had been cut in half, thus the line separating the two of them.
Here's Bill and Patti again in a "less formal" situation.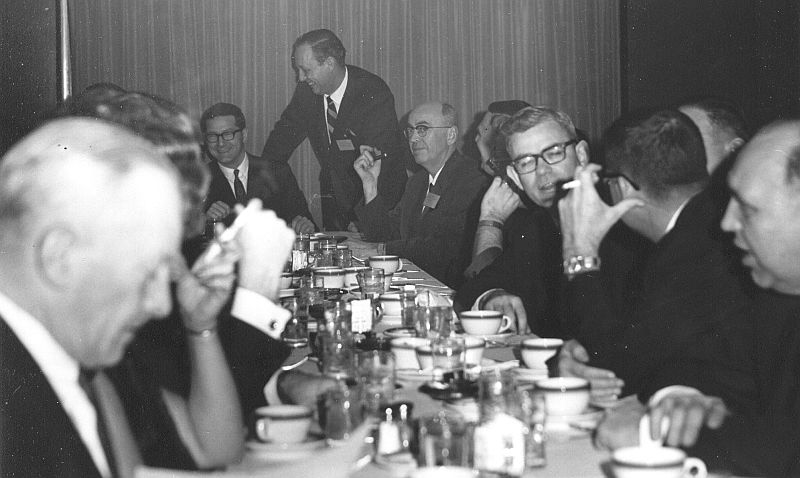 Unknown date on this photo. Immediate left is John Franco, Franco's Hidden Harbor. That's Bill standing at the back. Seated next is Joe Lavin of the association staff with his ever present pipe, and it looks like Charles Noble also a staff member to Joe's left. The last man at the table was Bill Jensen,the owner of King Oscar's Smorgasboard in Seattle.
Restaurant News and Hotel Magazine photo
More Honors at Spokane
RASW President Bill Pardee (second from left) is flanked by Orville Cox, a member of the Spokane County Restaurant Council and M. M. Francis, well-known Inland Empire restaurant man at ceremony in Spokane where industry awards went to many industry people for help to state association during legislative program efforts. Other awards winners were (left to right) Susena Plese of Stockyards Inn, Val Whiting of Copoper Grill and E. W. Peterson of Skylark Restaurant.
Governor Dan Evans with RASW President Pardee at the Seattle Center Coliseum.
Restaurant News and Hotel Magazine photo
SPOKANE CONGRESSMAN TOM Foley was the center of attention when Restaurant Association officials met with the distinguished public official to discuss his proposed amendment to the Meat Inspection Act. Left to right are Al Schilling, Olympic Hotel; Victor Rosellini, Rosellini's Restaurants, RASW President Bill Pardee, Pardee's Restaurants; Walter Clark and Eugene Clark, Clark's Restaurants; Charles Andrews, Hyatt House; Dave Cohn, The Barb Enterprises; Jim O'Brien, Renton Inn; and John F. Gordon, RASW Executive Vice President.
1967 Restaurant Association Day at Longacres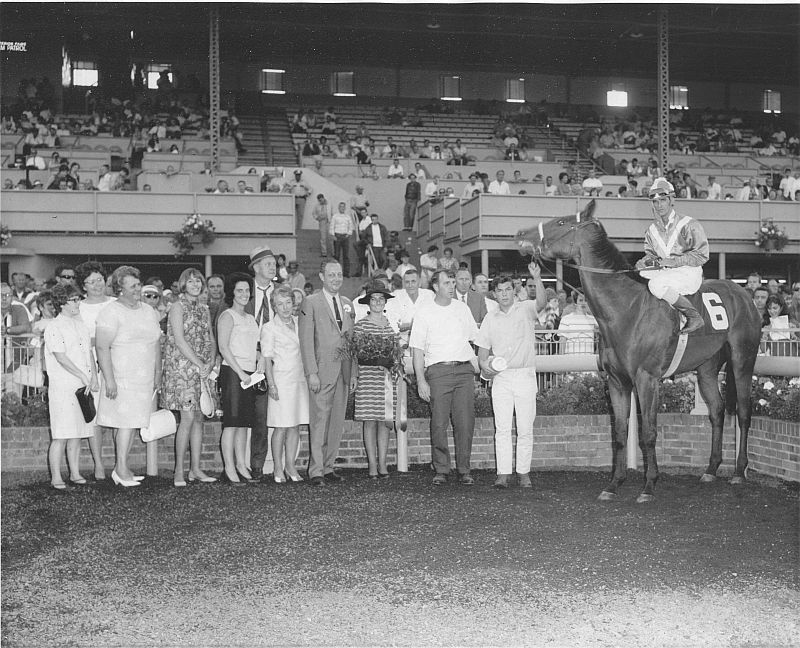 photo by John Lincoln for Restaurant News and Hotel Magazine
A large crowd greets English Comic. Jockey Paul Frey was a finalist for the Washington Racing Hall of Fame in 2010 and again in 2011.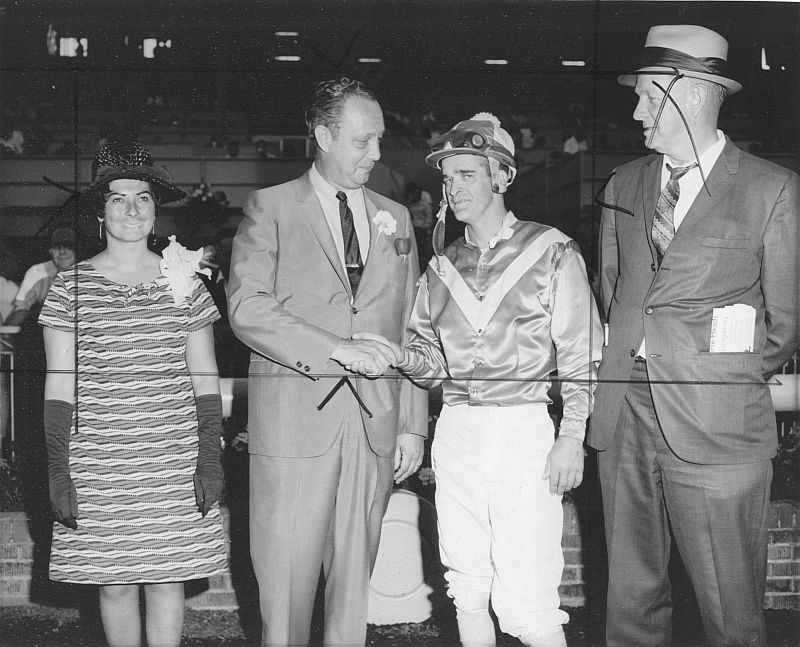 photo by John Lincoln for Restaurant News and Hotel Magazine
The feature event of the day was the Restaurant Association Purse which was won by English Comic. Here Mr. and Mrs. Bill Pardee extend congratulations to jockey Paul Frey. Pardee is president of the RASW.
Probably early 70's
April, 1972, when Bill Pardee was named Restaurant Man of the Year. He's shaking hands with Dave Cohn (1966). Janice Koskivich (1965) is between them and behind Cohn is the top of Victor Rosellini's (1960) head and John Franco (1963). That looks like Boe Messett of Dag's (1969) between Victor and John Franco.
Thanks to the light reflecting off the top of this shiny plaque, I don't know who's giving it to whom, but it looks like Bill and Max (Dale) were enjoying the ceremony.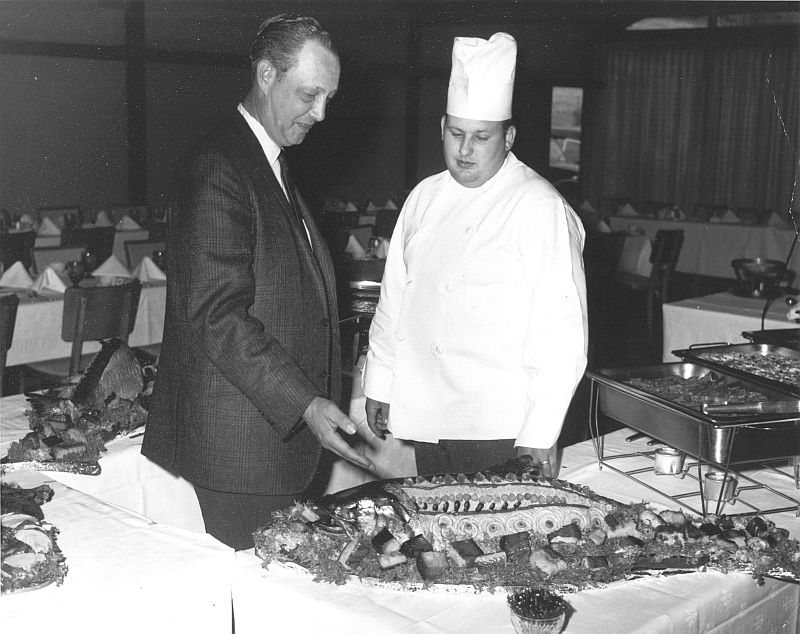 And just what do you call this?
Golf anyone?
WILLIAM WARREN PARDEE. Bill was born on November 25, 1922, and passed away on May 3, 2004. Bill was born at his grandparents' home at 2517 Lombard and was taken to Lake Stevens where his parents, Elmer and Marjorie Gregory Pardee, owned and operated Pardee's Grocery. Bill was raised in and went to Lake Stevens schools, graduating from high school in 1940. During his early years, he worked with his brother and parents, and in 1936 at the age of 13 he went to work at Davies Beach Resort. He worked there each summer until 1941.
He attended Western Washington College of Education for one year, then went to Pearl Harbor. Bill served in the U. S. Merchant Marine and was involved in three invasions, those of Attu, Leyte and Okinawa. In 1948 Bill met, wooed and married Patricia (Patti) Moore. Their marriage was blessed with three boys, Donald, Gary, and Bradley.
In 1948 in partnership with Bob Tuerk, Bill and Patti opened the T & P Pak-Out Restaurants in two locations in Everett. In 1955 they sold their holdings in the T & P's and opened Pardee's Restaurant on North Broadway. During the 15 years they owned that establishment it became noted for its fine food and ambience. In 1966 and 1967 Bill was elected and served as President of the Restaurant Association of the State of Washington. In 1972 he was honored as the "Man of the year of the Hospitality Industry".
In 1972 Bill joined a friend, Stewart Anderson, and went to California for three years during which time he opened eight Black Angus Restaurants in Southern California and Arizona. During his 10 years with Black Angus, Bill oversaw the operations of restaurants from Anchorage, AK to Tuscon, AZ. Bill's three things he loved were his wife and sons, the restaurant business and golf.
He really enjoyed playing in golf tournaments in Hawaii, Lake Tahoe, Las Vegas and many others in California, Oregon, Washington, and Canada. Bill was preceded in death by his wife, father, mother and brother Frank. He is survived by brother Donald C. Pardee; sons, Don (Barbara), Gary (Dale) and Bradley; grandchildren, Ryan, Abraham, Aaron, Jessica, Donald and Laura. At Bill's request there were no services, however there was a casual gathering in Marysville on May 8, 2004 that honored a great man. The family would like to thank Forest View Care Center and Providence Hospital for the excellent and loving care they gave him. The (Everett) Daily Herald, Wednesday, May 5, 2004
Patricia (Patti) Moore Pardee, 1929-2003
Patti passed on June 6, 2003 after an extended illness.
Patti was born on March 23, 1929 in Everett. She was the youngest of four daughters born to Edgar and Nora Carter Moore. Patti attended Immaculate Conception School and at an early age worked at various soda fountains including English's, Meadowmoor, The Campus Shop, and Tillies.
In 1948 she met and married Bill Pardee. Their union was blessed with three sons, Don (Barbara), Gary and Bradley. After marriage, she and her husband owned and operated the T & P Pakout Restaurant in partnership with Bob and Pat Tuerk. Upon selling that place, Bill and Patti opened Pardee's Restaurant in North Everett. After selling that restaurant, Patti and Bill moved to southern California where Bill opened and supervised ten Stuart Anderson Black Angus restaurants. Upon returning home to Everett and seven more years, Bill retired from the restaurant business.
Patti was preceded in death by her father and mother, Edgar and Nora Moore and sisters, Lucille Rinne and Juanita Loy. She is survived by her husband of 54 years; sons, Donald, Gary and Bradley; daughter-in-law, Barbara; grandchildren, Ryan, Abraham, Aaron, Jessica, Donald and Laura; her sister, Billie Turner; and numerous nieces and nephews, especially her niece and best friend JoAnn Mason.
Patti's family would like to thank the management and staff of Madeline Villa Care Center for their understanding and caring during Patti's final days. At Patti's request there were no services. Please keep her in your thoughts.
Published in The Herald (Everett) on June 7, 2003
You are at JackGordon.org,
a salute to John F "Jack" Gordon, Mr. Seattle

Copyright © 2002-2020 John R. Gordon