JackGordon.org
Bill Pardee,
Everett restaurant operator
1967-8 RASW President and 1972 Man of the Year


Bill was president of the Restaurant Association for the 1967 term (July 1, 1967, through June 30, 1968). He and Patti were owners of Pardee's Restaurant at the corner of Broadway and 11th in North Everett. Bill was named Restaurant Man of the Year by the Restaurant ASssociation for 1972, receiving his honors at the restaurant convention in April of that year.
A nice portrait of Bill. Probably later thanh his '67 term as he didn't have a mustache then.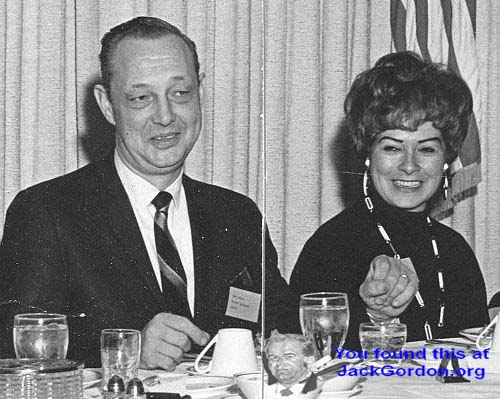 Bill and Patti at a restaurant association dinner event. (This picture had been cut in half, thus the line separating the two of them.
Here's Bill and Patti again in a "less formal" situation.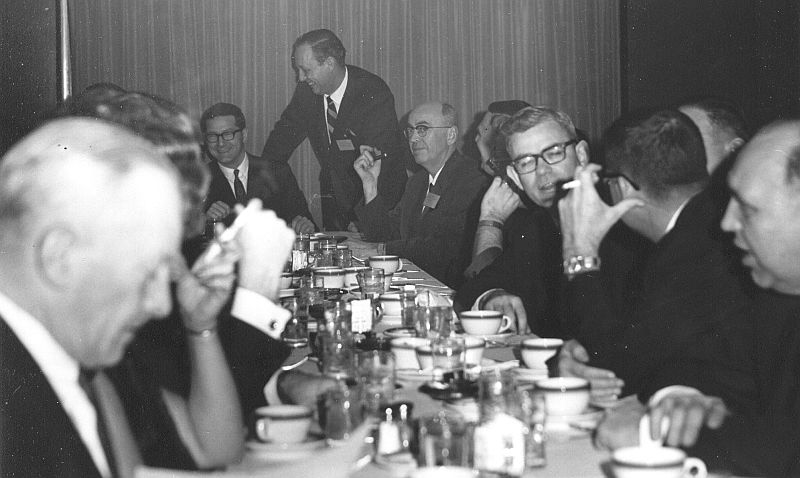 Unknown date on this photo. Immediate left is John Franco, Franco's Hidden Harbor. That's Bill standing at the back. Seated next is Joe Lavin of the association staff with his ever present pipe, and it looks like Charles Noble also a staff member to Joe's left. The last man at the table was the owner of King Oscar's Smorgasboard in Seattle.
restaurant News and Hotel Magazine photo
More Honors at Spokane
RASW resident Bill Pardee (second from left) is flanked by Orville Cox, a member of the Spokane County Restaurant Council and M. M. Francis, well-known Inland Empire restaurant man at ceremony in Spokane where industry awards went to many industry people for help to state association during legislative program efforts. Other awards winners were (left to right) Susena Plese of Stockyards Inn, Val Whiting of Copoper Grill and E. W. Peterson of Skylark Restaurant.
Governor Dan Evans with RASW President Pardee at the Seattle Center Coliseum.
Restaurant News and Hotel Magazine photo
SPOKANE CONGRESSMAN TOM Foley was the center of attention when Restaurant Association officials met with the distinguished public official to discuss his proposed amendment to the Meat Inspection Act. Left to right are Al Schilling, Olympic Hotel; Victor Rosellini, Rosellini's Restaurants, RASW President Bill Pardee, Pardee's Restaurants; Walter Clark and Eugene Clark, Clark's Restaurants; Charles Andrews, Hyatt House; Dave Cohn, The Barb Enterprises; Jim O'Brien, Renton Inn; and John F. Gordon, RASW Executive Vice President.
1967 Restaurant Association Day at Longacres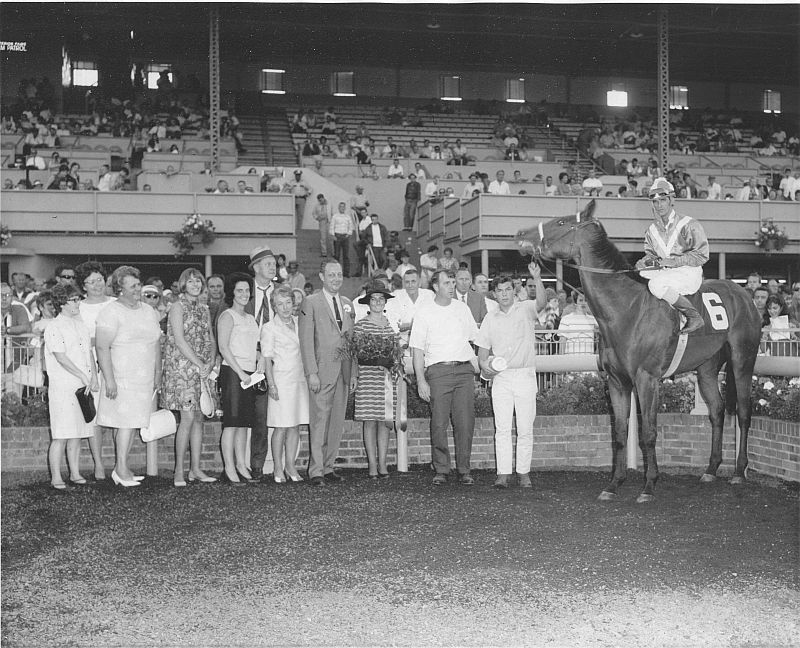 photo by John Lincoln for Restaurant News and Hotel Magazine
A large crowd greets English Comic. Jockey Paul Frey was a finalist for the Washington Racing Hall of Fame in 2010 and again in 2011.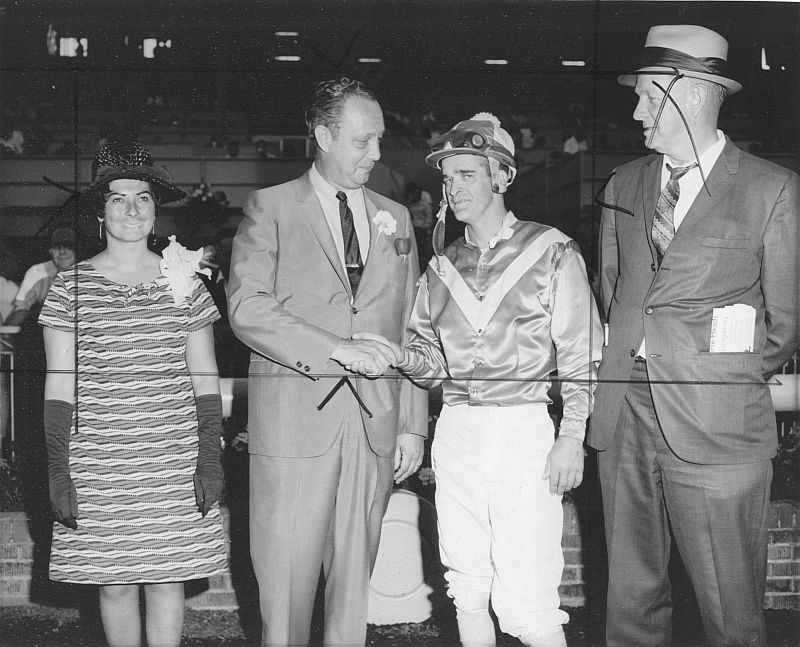 photo by John Lincoln for Restaurant News and Hotel Magazine
The feature event of the day was the Restaurant Association Purse which was won by English Comic. Here Mr. and Mrs. Bill Pardee extend congratulations to jockey Paul Frey. Pardee is president of the RASW.
Probably early 70's
April, 1972, when Bill Pardee was named Restaurant Man of the Year. He's shaking hands with Dave Cohn (1966). Janice Koskivich (1965) is between them and behind Cohn is the top of Victor Rosellini's (1960) head and John Franco (1963). That looks like Boe Messett of Dag's (1969) between Victor and John Franco.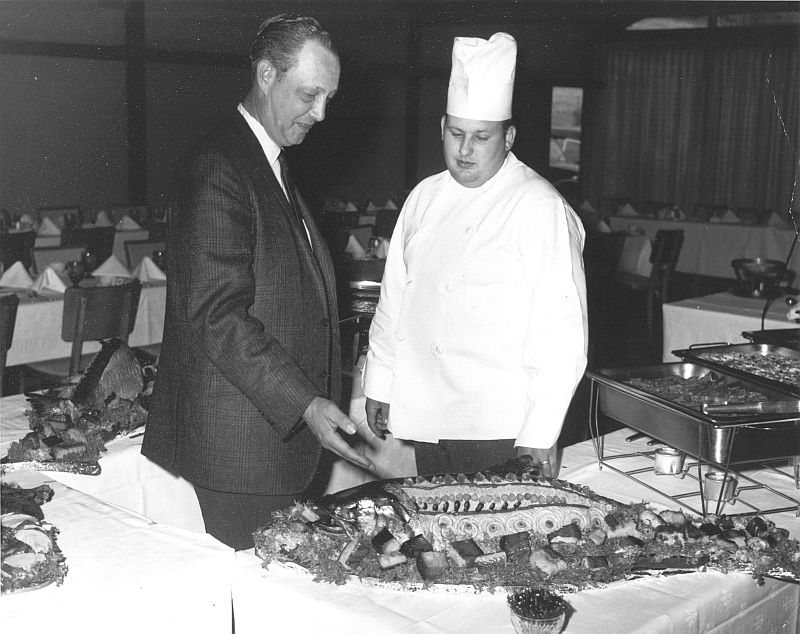 And just what do you call this?
Golf anyone?
If Bill's son or daughter-in-law will give me a call at the bookstore (or stop in again), I'll happily give you any of the original pictures if you'd like them.
You are at JackGordon.org,
a salute to John F "Jack" Gordon, Mr. Seattle