Home > Restaurant Association People > Bruce and Bev Attebery

JackGordon.org
Bruce Attebery, RASW President and
longtime restaurant operator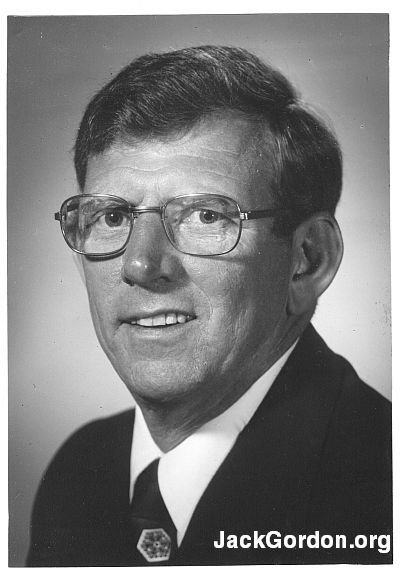 Bruce's Official Portrait as president of the Restaurant Association of the State of Washington
Beverly Attebery's First Lady Portrait
Here are Bruce and Bev Attebery
In an early Restaurant Association receiving line, we see Bev and Bruce. Other notables in this shot include Chas G. Hord (Glasses and light tux jacket), John Franco (far right in this picture), Bill and Patti Pardee, and what looks like Robert Redford working his way through the line.
(Left to right) are Victor Rosellini (standing), Seattle's Rabbi Levine, Cong. Norm Dicks, and Bruce Attebery.
Bruce and liquor rep. Bob Myrseth
They look like they were a winning foursome. It's Dave Mitchell, Chuck Quinn, Bruce, and an unidentified golfer.
One of the jobs a Restaurant Association president had was to give speeches. Lots of speeches.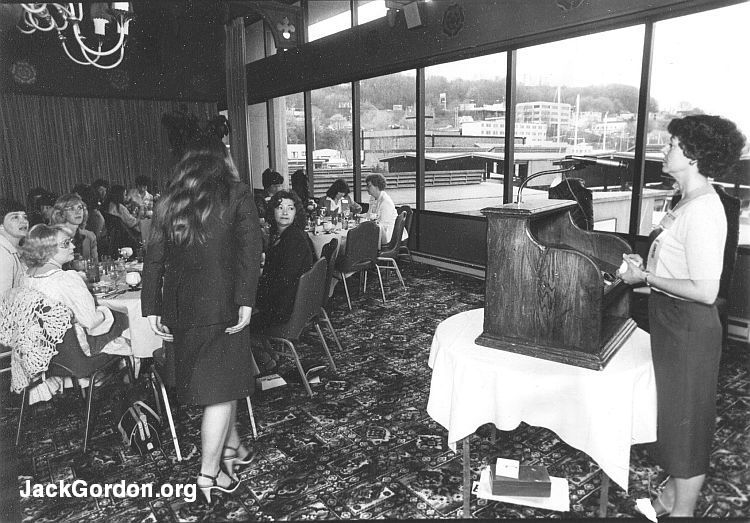 The First Lady hosted the "Ladies Lunch" during the biennial Restaurant Convention. Bev is at the podium in what appears to be Horatio's on Lake Union. Only other participants I can identify are Billie (Mrs. Jim) Russell (seated at first table to the left) and at her side, Roberta (Mrs. Jack) Gordon.
photo by John E. Walker, Seattle
The Opening Luncheon at the 1982 Pacific International Hospitality Show had former U.S. President Gerald Ford as the keynote speaker. Here Bruce (right) is shaking hands with the President, while perennial onvention chairman Victor Rosellini approves.
From a summer RASW Board Meeting at Stuart Anderson's Black Angus Ranch just west of Ellensburg are Bruce and Bev. That looks like Don Lehnertz from the Longhorn in Spokane behind them.
Bruce was also at a lot of the RASW meetings with Washington State Governors.
It was with great sadness that we read the following in the Seattle Times near the end of June, 2010:

Beverly J. Attebery, age 76 died peacefully at home on Saturday, June 19th. Beverly is survived by her husband Bruce of 46 years; daughter Kim Boman and 3 grandchildren. A celebration of life will be held on Friday, June 25th at 1:00 PM at the Sunset Hills Funeral Home located at 1215 145th Place SE, Bellevue, WA 98007. Remembrances may be made to the ALS Foundation.
You are at JackGordon.org,
a salute to John F "Jack" Gordon, Mr. Seattle

Copyright © 2002-2017 John R. Gordon