JackGordon.org
Win Schuler, Win Schuler's Restaurants, Michigan
This picture from the archives of Restaurant News is ID'd "Dick Lenington". Now we know that the man on the left is Win Schuler of Michigan's famed Win Schuler's Restaurants, creator of Bar Scheeze. The only local (Washington State) reference to Dick Lenington I've come up with is from the March 2003 President's notes of the Wing Point Country Club, Bainbridge Island. About halfway down the page is: "It was during the mid-1950s that the members began talking about a "new" club. A May 1956 letter from Membership Chairman, Dick Lenington, extolled the virtues of the Club and it's [sic] plans for the future."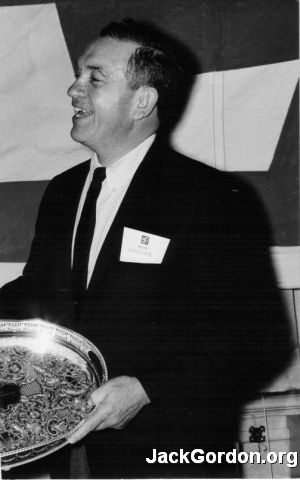 Here's a picture of Win Schuler and a tray that he was given at a Washington State Restaurant Association Convention event.

Win and his company are well known for having been one of the first employers of James Wm. Moffa.
You are at JackGordon.org,
a salute to John F "Jack" Gordon, Mr. Seattle

Copyright © 2002-2012 John R. Gordon