JackGordon.org
Evolution of a Great Idea
Late in 1981, shortly after assuming the management contract of the Washington State Lodging Association, John Gordon (WSLA Exec. Secretary) met with Lee Click of Western Publishers' Service. Gordon wanted to increase the benefits for association members and was interested in creating a hotel/motel guide for distribution around the country. They came up with this 24-page booklet, just the perfect size to slip into a #10 (business size) envelope or a shirt or suit coat pocket. The directory listed each member of the association. Some 20,000 copies were given out during 1982's tourist season.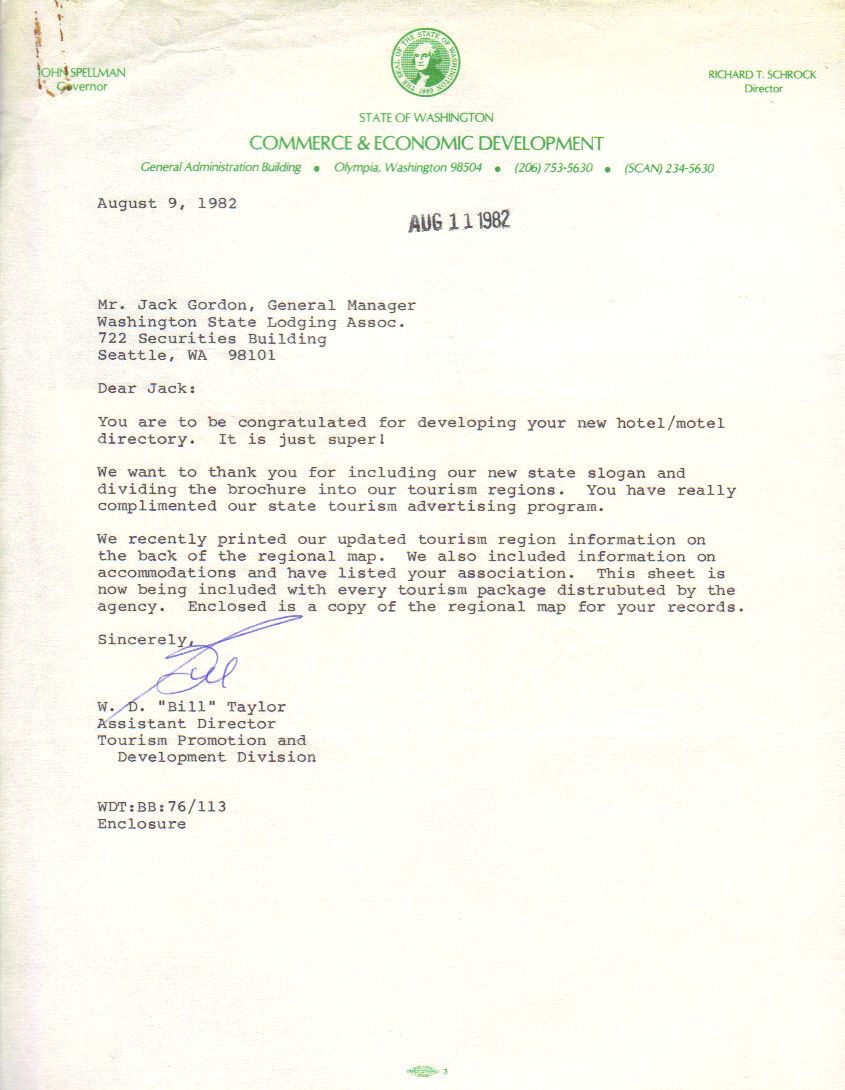 In addition to sending out directories to travel agents, visitor bureaus, chambers of commerce, and other travel-related industries, the association sent copies of the directory to Governor Spellman and the heads of state departments.
We received this nice letter from Bill Taylor of the Tourist Development and Promotion Division of the State Dept. of Commerce & Economic Development.
WSLA President Jim Treadway of the Washington liked the idea of the travel directory, but he thought it should be larger.
Much larger.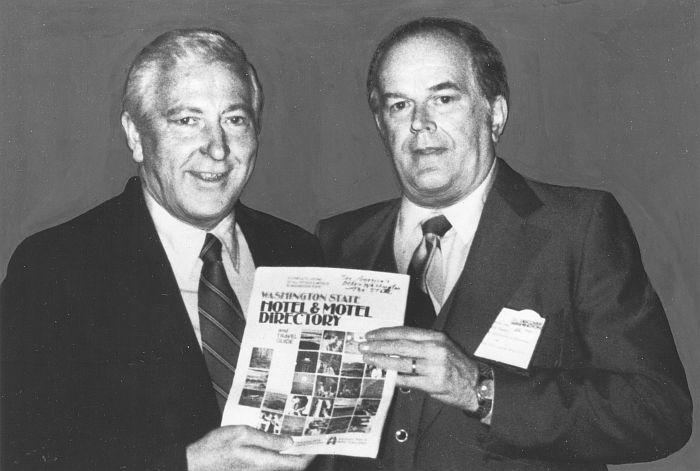 Here are Washington State Governor John Spellman (l) and WSLA Exec. Jack Gordon posing with a mock-up of the 1983 edition of the directory.
John Gordon of the association and Lee Click agreed that the directory needed to list all of the hotels, motels, and resorts in the state for it to be truly useful.
Each of the state's lodging properties received a basic listing with WSLA members benefitted from expanded listings and descriptions.
The directory grew to 64 full-color pages and 100,000 copies were distributed.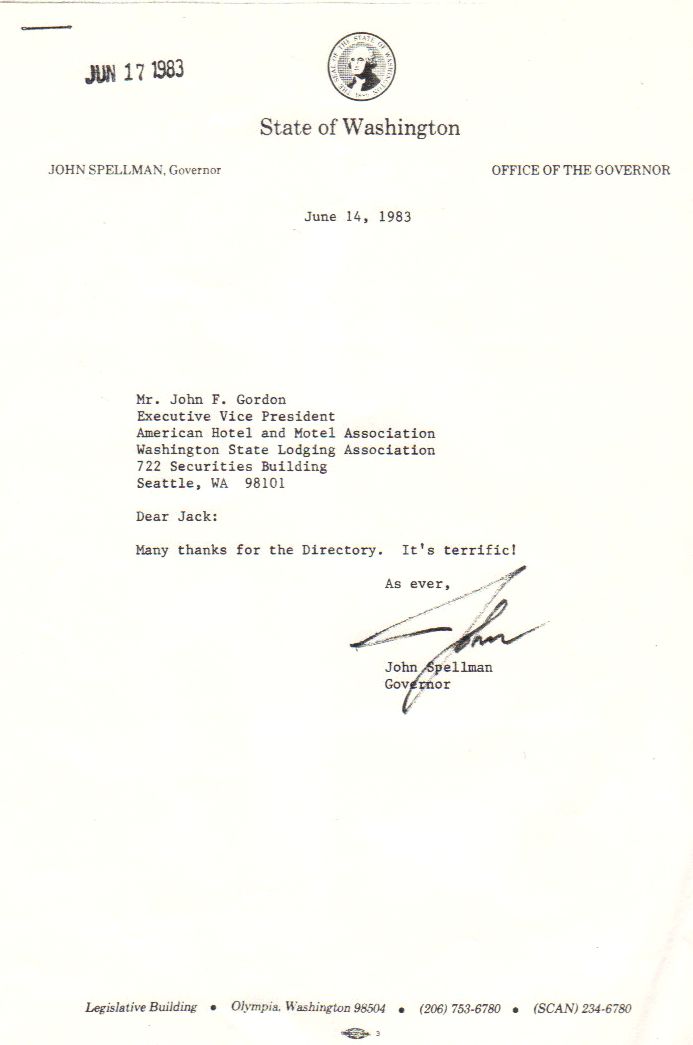 Governor Spellman's take on the directory?
"It's terrific!"
At the Governor's Conference on Tourism, held later in 1983 in the Tri-Cities, John Gordon and the association received this special award.
Special Recognition for State-Wide
Hotel and Motel Directory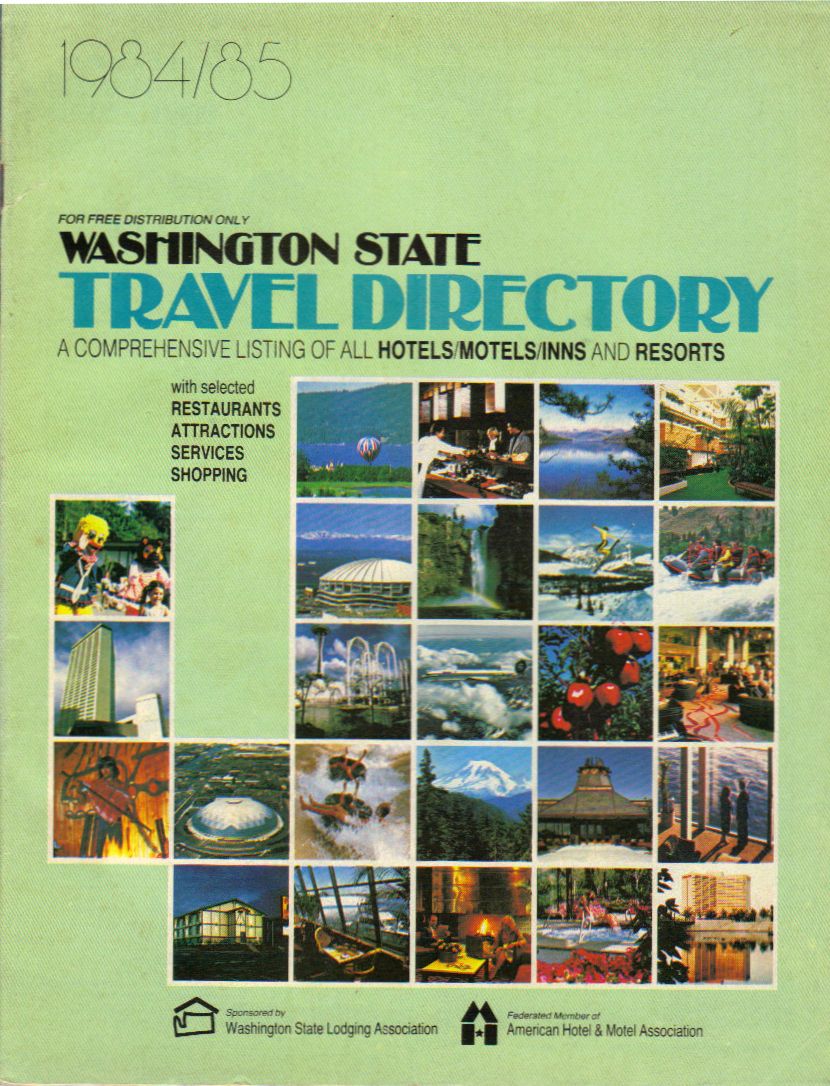 Due to the directory's continued success, the 1984 edition was expanded to include restaurant listings.
It grew another 32 pages to 96 and there were 250,000 copies printed and distributed.
Moving from the map and grid pattern of previous covers to a more upscale image.
Tourist attractions were added to the listings (joining the hotels/motels and restaurants of earlier years) and a half-million copies of the gigantic 144-page full-color directory were distributed across North America and the world.
This was the last year of the association-sponsored directory as the new administration in Olympia decided that Click and Western Publishers' Service weren't big enough to handle the project any more.
You are at JackGordon.org,
a salute to John F "Jack" Gordon, Mr. Seattle

Copyright © 2002-2016 John R. Gordon