JackGordon.org
Century 21 -- What did we lose?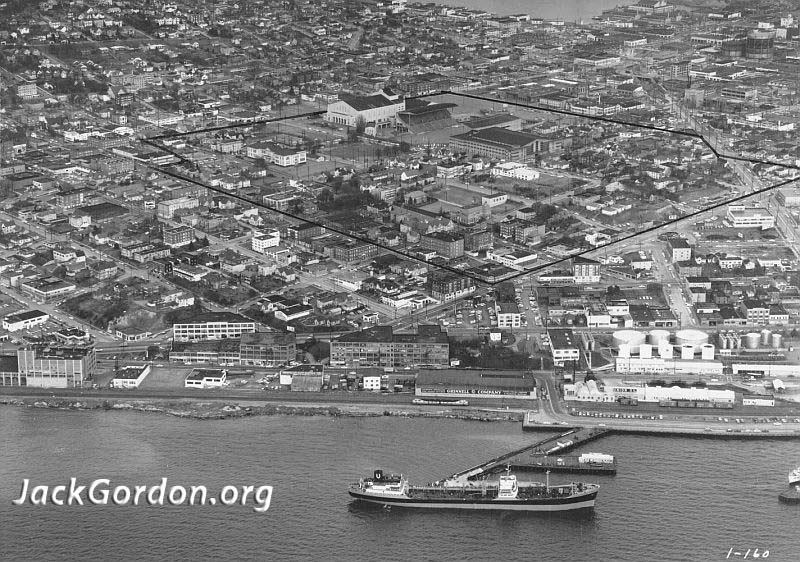 Pacific Aerial Surveys, Inc., Seattle
From a photo hand dated "Dec 57" on the reverse comes this view of lower Queen Anne and the World's Fair to be. It's impossible to know exactly when the proposed boundaries were drawn, but they appear to match those of the Seattle Center, formerly the World's Fair grounds. You can see the big white "Civic Auditorium" that became the Opera House in the upper right corner. It looks big because it was big. For a political rally for Gov. Rosellini's 2nd term, Jack Gordon managed to fit 3,000 diners on the main floor and another 2,500 paying customers on the balcony level. (The Opera House is now known as the "Marion Oliver McCaw Hall")
Just to the right of the Auditorium, you can see the Memorial Stadium, known during the fair as the "World of Entertainment" and used for many outdoor spectaculars including the opening ceremonies. Continuing to the "right" is the Armory, which was turned into the "Food Court " during the Fair and later the Food Circus and then the Center House. The big white building where the Coliseum Key Arena now sits was the Warren Avenue School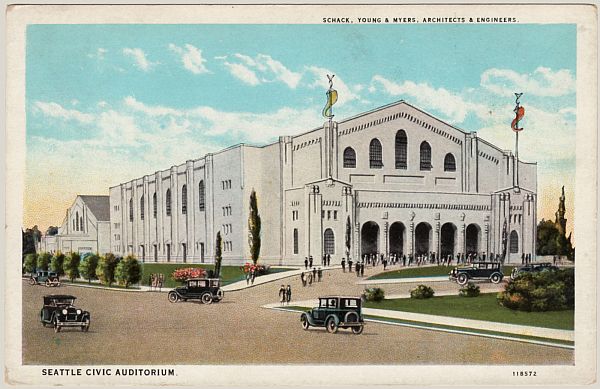 From close to its beginnings in 1927, the Seattle Civic Auditorium. I told you it was big.
You are at JackGordon.org,
a salute to John F "Jack" Gordon, Mr. Seattle

Copyright © 2002-2012 John R. Gordon