JackGordon.org
PAGE FIVE
THE SKY-WRITER, PASCO, WASHINGTON, WEDNESDAY, AUGUST 10, 1943
Plot Thickens As Smoker Card Goes "AWOL"
S-h-h-h!
Don't look now but there's skull-duggery afoot aboard the Pasco Naval Air Station!
We had this space reserved for a yarn about the events carded on the station smoker, which is slated for next Tuesday p. m. in the Recreation Hall, but our trusty scouts came back empty-handed to report that the card for the bouts is about as much in evidence as a certain B. Mussolini on Italian Balconies.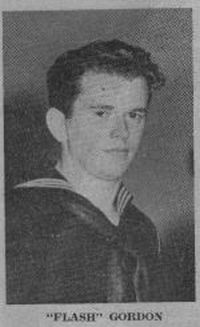 Immediately we sent out a hurry-up call for the Sky-Writer's Sherlock Holmes, "Fearless Fosdick," who went out hot on the trail of clues. He checked in this morning and here's his report.
1. The Corpus Delecti (the smoker card) is missing. Even Chief Stent, himself a former Scotland Yard detective admits that!
2. Stent, who's managing the smoker, promises an "arrest" of the guilty parties by next Tuesday morning and that the card will have some surprises that will pack the Rec Hall to the rafters.
P. S.—But whether the "surprise" that Chief Stent promises was Superman, the Masked Marvel or maybe Franklin D. is where the plot thickens!
Only facts that we know is that Lieut. O. C. Gillum, physical training instructor, and Sgt. James Kayser, USMC, Guadacanal veteran, will stage a demonstration of hand-to-hand combat. That Lt. (jg) Bruce Smith will present a tumbling exhibition and that Seaman Larry Hannon, ex-Seattle pug, will referee.
But from there you have us. Seems the "Mystery of the missing card" will remain a mystery until next Tuesday at this same time!
Quick Watson, the needle!
Here's a look at the front page of The Sky-Writer for Wednesday, August 10, 1943.
And Jack's Regular "Swabbin' the Deck" column for August 10, 1943
You are at JackGordon.org,
a salute to John F "Jack" Gordon, Mr. Seattle

Copyright © 2002-2012 John R. Gordon