Home > Jack Gordon's Navy Service > Swabbin' the Deck Columns > October 19, 1943

JackGordon.org
PAGE Seven
THE SKY-WRITER, PASCO, WASHINGTON, Tuesday, October 19, 1943

THE PASCO Naval Air Station lost one of its pioneers today.
Ex-Pacific Coast Leaguer "Chief" Levi McCormack was detached this morning to Seattle for a sea duty assignment with the fleet.
He was in the first crew of enlisted men to board the Pasco primary training station when Comdr. B. B. Smith transferred the base here from its former location at Sand Point, Seattle in 1942. Here McCormack served as an aviation ordnanceman, instructing aviation cadets in aircraft gunnery.
McCormack devoted most of his liberty time to playing baseball for the famed Pasco Flyers. But his role as a ball player for the Flyers wasn't his only baseball experience.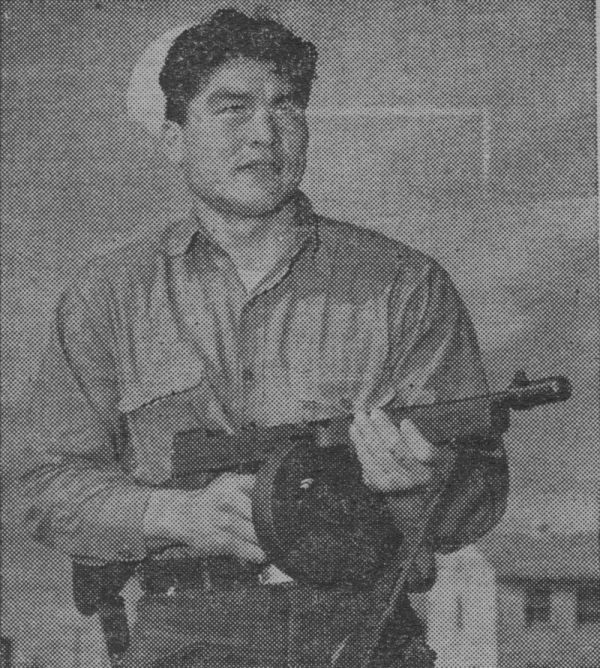 Official U.S. Navy Photo
LEVI McCORMACK
The "Chief" Goes To Sea
He began his professional career in 1933 with the Lewiston, Idaho club where he alternated as a catcher and an outfielder. After two and one-half successful years with the Pioneer League outfit he was sold to the Seattle Rainiers.
Starting in with the Suds nine in mid-season didn't worry the strapping pasture mechanic and he turned in a .348 batting average for his thirty-game effort that year.
In 1937 McCormack went to spring training camp with the Seattle nine and played through two seasons. In '37 he batted .298 and .294 in 1938. That last year with the Rainiers, McCormack tied Joe Di Maggie's PCL assists record and fielded .1000. [editor's note: I don't know if Jack meant 1.000 OR .1000.]
In '39 Spokane grabbed the "Chiefs" option and he went to work for the Western International League gang where he became the idol of Spokane fans. He stayed with the Spokane club until 1942 when he joined the Navy at Sand Point. He batted .310 in '39, and .327 and .338 in the following years.
The record of his achievements will be remembered but right now they aren't so important to the "Chief" because today he goes forth to play his biggest game.
You are at JackGordon.org,
a salute to John F "Jack" Gordon, Mr. Seattle

Copyright © 2002-2013 John R. Gordon