Home > Navy > Navy Columns > Swabbin' The Deck, November 10, 1943

JackGordon.org
PAGE SIX
THE SKY-WRITER, PASCO, WASHINGTON, WEDNESDAY, NOVEMBER 10, 1943

DOC MEIKLE, whom Coast League baseball fans will recognize as the famed trainer of the Hollywood Stars, paid a call to the Pasco NAS last week to see "one of his boys" . .. Fred Gay, the ex-Hollywood left-handed flinger . . . while in Eastern Washington on a hunting trip, but that didn't take his mind away from baseball and he dropped a few remarks about the future of the sport for the diamond fans . . As far as Meikle is concerned Pacific Coast League ball will be going great guns next season . . . "it's a cinch, what with the lights on again . . ." but the player draft by the big leagues hasn't improved the tempers of the Double A boys, opines the Doc . . . so don't be surprised if they start getting more shekles for the draftees in the future." ...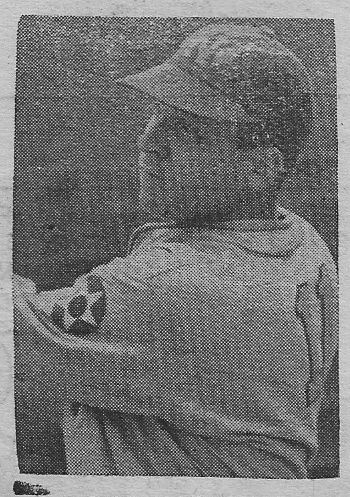 [A]s far as the world series prospects for the next season are concerned ... Meikle thinks it'll be the Cards and the Yanks again ..." but about who the next prexy of the P.C.L. will be now that "Two Gun" Tuttle has resigned, Meikle only ventured to guess that the nod might go to either Bill Schroeder or Dunk Farrell, both well-known California sportsmen ...
incidentally, gents, Doc advises that Johnny Bittner, ex-Pasco Flyer and another of his Hollywood Star proteges, is serving Uncle Sam down in Jacksonville, Fla., 'along with Edo Vanni and Rube Sandstrom....
CHIEF STENT, No. 1 boxing enthusiast aboard the NAS can expect some help in the coaching department these days from new arrival Chief Albert Bannister, who once upon a time was a pro boxer and until transferred to Pasco was an instructor for Navy pugs overseas....
BOB HORNIG added his name to the list of the sea-duty bound ex-Flyer ballplayers last week, when he boarded a west-bound train for Bremerton along with Ted Romer, Flyer manager, for an assignment with the fleet. ... Hornig played for Spokane, Tacoma and Salem in the WILeague and with Bellingham in the old N. W. loop before enlisting in the Navy . ... he holds a coxswain's rate while Romer is a Bos'n Mate. ... Erick Erickson became the No. 1 bowler in the NAS league action Thursday . . . rolling a 232 score, highest in league loop competition this year . . . he plays for the Dark Horse trundlers . . . with a game on tap with the Whitman College Navy ... the Tarmacs hoopsters are really getting a chance to show their stuff before they head East for the next stage of their pre-pre-pre flight training . . .
You are at JackGordon.org,
a salute to John F "Jack" Gordon, Mr. Seattle

Copyright © 2002-2015 John R. Gordon