Home > Navy > Navy Columns > Swabbin' The Deck, August 3, 1945

JackGordon.org
PAGE FOUR
THE SHIPS'S LOG, BREMERTON, FRIDAY, AUGUST 3, 1945

IT WAS OLD home week at The Log Office this week with the return to duty here at the Receiving Station of Chief Storekeeper Les Johnston, former sports editor of This Peerless Periodical, fresh from a tour of duty at the Naval Air Station, Seattle . . . Johnson is presently serving in the Athletic and Welfare Department under Lieut. Sayles Young and is currently boosting league play in the Barracks Softball chase . . .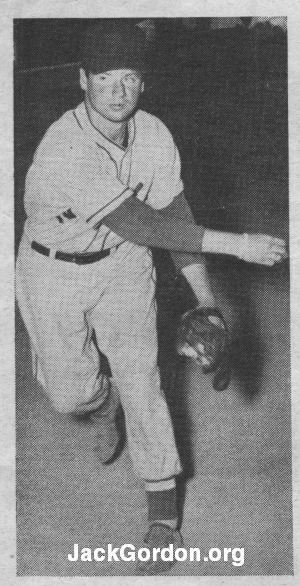 BOB TRESTLER
Mound Ace
Agent No. X-17 reports that another sports editor, Royal Brougham of the Seattle Post-Intelligencer, is expected to be a PSNY visitor one of these days— particularly to inspect that athletic quarters up at the Naval Hospital we described to you in last week's opus . . . the inspecion [sic] is part of Brougham's job as chairman of the Seattle Athletic War Council and probably will mean that some tip­top athletic equipment will be forthcoming for the Hospital (free gratis) . . . The recent Seattle Star Green Lake Swim Meet didn't go without PSNY representation— and winners to boot! . . . Third place winner of the Lake Mile was Lieut. Bill Howell of the Receiving Station and the seventh place berth was copped by R. B. "Bud" Edwards, S1c of the Station swimming pool staff . . . The Naval Hospital's Softball team will represent Bremerton's hopes in the coming N. W. Service Softball championship finals slated in Seattle . . . the men in white dumped Manchester in their final argument of the Bremerton area Navy softball tournament . . . CUSTOMERS ARE ALWAYS RIGHT DEPARTMENT—Boner of the week comes back to us in the shape of a rebuff from one reader who objected to our calling Lieut. A. H. Hecht, R/S Welfare Officer, "Lt. Ben Hecht" in a recent tripewriter effort . . . "'tain't Ben but Archie", de reader sez . . . we stand corrected . . . here's one more reminder about that salt water trolling gear and fishing tackle available at the Welfare Office in the Recreation Building . . . get hot, you Isaac Waltons! . . . and let's hear from youse guys who caught something—or almost caught one! . . . NEWS ITEM: Editor-in-Chief Walt Glasscock is due back at your Old Neighbor's desk this week and here's your laff of the week: Finnegan was showing a salesman acquaintance his homing pigeon. Said the Salesman: "You mean to say, Finnegan, that this bird will fly back to you no matter where I take it?" "That I do," replied Finnegan. So the salesman bet Finnegan $100.00 that it couldn't be done and said he was taking the pigeon to San Francisco for the trick—promising not to harm, injure or imprison the bird—but vowing all the time it couldn't be done. When the salesman arrived in S. F. he wandered up to Civic Center, plucked all the feathers off the bird—and set it down on the sidewalk. Six months later the salesman arrived back in New York and went up to see Finnegan to collect the $100.00. When he arrived he was very much surprised to hear that Finnegan expected him to pay the bet. "You mean," said the salesman, ''that your pigeon got back here all the way from San Francisco?" "Aye, that I do," replied Finnegan, "but boy, was his feet sore!"
ANOTHER pitcher who is making a name for himself on the R/S baseball team is Bob Trestler. He started his baseball career in Oak­land Technical High School where he pitched his team to a championship. He followed this experience by pitching for several semi-pro teams in Oakland. Bob joined the R/S baseball team in the early part of May and has an unblemished record of eight victories and no defeats registered under his name. Trestler is not just an average pitcher, as is indicated by inquiries for him from scouts from some of the leading teams in the country. He is only nineteen years of age and has all of the qualifications for a bright baseball future. In addition to his natural pitching ability, he has a pleasing personality, and is one of the best liked men on the team . . . Coach Tadd has been very fortunate this season in having men on his nine of Trestler's caliber. It is very evident that this youthful pitcher will be hurling for some major league team after the war. Watch for his name in the headlines along with many others who are now doing a splendid job for Uncle Sam.
(News article on the R/S-Marines baseball game)
You are at JackGordon.org,
a salute to John F "Jack" Gordon, Mr. Seattle

Copyright © 2002-2015 John R. Gordon