Home > Navy > Navy Columns > Swabbin' The Deck, September 28, 1945

JackGordon.org
PAGE FOUR
THE SHIPS'S LOG, BREMERTON, FRIDAY, SEPTEMBER 28, 1945

In Which El Flasho and Der Yogi Go Prognosticating
Nowadays a newspaper without a football expert is like a ham sandwich without ham, so The Ship's Log goes overboard this week with two gridiron prognosticators. All hands are warned not to take these weekly selections too seriously, as the "experts" themselves certainly don't guarantee a thing.
The writer of this column, who earned the nickname of "Flash" because of the speed in which he dodged pals trying to collect overdue debts for football wagers, will match wits with Yogi Kelly, a pigskin soothsayer from the east. It'll be "step up and take your choice" on these weekly collegiate football games with Flash and Yogi doing their utmost to confuse both themselves and you sports readers.
Now here is the lineup and predictions for this Saturday's collegiate games. We'll keep a weekly scorecard to prevent any undue boasting.
Navy-Villanova: Having first choice, Yogi Kelly takes the Navy, without thinking twice. Score 40-0. At the risk of getting Admiral Halsey mad at him (he had no other choice) Gordon says Villanova in a 20-19 upset.
Ohio State-Missouri: Flash takes the Western Conference champion in a 39-0 walkaway. Kelly says he'll have to be shown and picks Missouri, 7-6.
Kelly Picks Notre Dame
Notre Dame-Illinois: A guy named Kelly couldn't help but choose the Irish from Notre Dame and by 13-0, too. "Illini fans, I'm with you," says Gordon, who will probably wish he hadn't. Still Illinois by 14-13.
Penn-Brown: Despite Yogi Kelly was once expelled, he nevertheless picks the Red and Blue, so Gordon is stuck with Brown. Yogi says it will be Penn 27-0 and Flash's forecast is Brown, 7-0.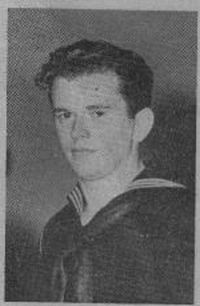 Jack "Flash" Gordon
Southern Cal-California: Kelly's idea of coast football is that you can't go wrong betting on the Trojans. U.S.C. by 10-0. The Bears stepped into a trap last week but this will be different. So says Gordon, and his count is California by 14-7.
Holy Cross-Dartmouth: Here's a tossup, so Gordon gets the Crusaders and Kelly the Indians. At any rate the score should be close.
Flash Takes Oregon Over U. of W.
Oregon-Washington: Being from the east this game has Kelly in a dither but some Navy photog passes out the tip that the Huskies are hot this year. So Washington, 21-13. Gordon has to take Oregon (he was born there) 14-6.
Purdue-Great Lakes: Gordon regains the true Navy spirit by picking Great Lakes 27-0. Yogi's Indiana bookmaker sends word that the Boilermakers are primed to avenge those war­time shellackings. So it's Purdue, 18-0.
Marquette-Wisconsin: A game that is always tough to pick. Kelly knows a gal from Marquette so what better reason to pick that college, 12-7. Gordon wanted Wisconsin because he likes the song "On Wisconsin." The score: 7-6.
Oklahoma-Nebraska: "The sooner the better" cracked Gordon picking Oklahoma, 33-7. Looking into the crystal ball and having no other choice, Yogi takes Nebraska and says it will be 18-6.
THE RANDOM HARVEST of crisp lettuce from Broadway's truck gardens—particularly from Mike Jacob's Eight Avenue planta­tion— has reached the ears of Primo Carnera, and the towering piassano from Sequals promptly started packing his bags for a trip to the United States. . . Yes, Old Satchelfoot is planning a ring comeback. He has no illusions about winning the heavyweight championship he held for a short time. The big Italian is strictly interested in the clink-clink-clink of the gelt from the pockets of gullible Ameri­cans . . . U.S. sports fans will pay to see just about anything. It's been proven—particularly in boxing—hundreds of times . . . The first boxig commission that issues a license for Carnera to box in the U.S. may be in for stormy criticism. The big guy has nothing to sell the public in the way of entertainment or professional skill. Yet there are many who would be willing to get it on the line to see him belt over a bunch of stiffs . . . Da Preem never could fight and he's too old to start learning. In his 30's, soft and out of condi­tion, the 260-pounder would present even a sadder sight than he did a dozen years ago when he clumsily knocked out a collection of ring characters before he got tangled up with Maxie Baer and Joe Louis. . . Carnera has about the same reason to be showing his wares in American rings that Tokyo Rose has of singing with the N. Y. Phil­harmonic. But you can bet your last clean skivvy shirt that Ol' Satchelfoot will be flashing his toothy grin to Madison Square Garden audiences come next January. See ya' at the ringside!
You are at JackGordon.org,
a salute to John F "Jack" Gordon, Mr. Seattle

Copyright © 2002-2015 John R. Gordon