Home > Public Service and Politics > Gordon emcees World Premiere movie in Seattle


JackGordon.org
World Premiere of "The Wild Blue Yonder" in Seattle
December 4, 1951, the Orpheum Theater
(from the top of movie advertisements in both the Seattle P-I and the Seattle Times)
Tonight 8 p.m.! ON STAGE IN PERSON! COMBAT HEROES!
GREATER SEATTLE, INC., AND THE ORPHEUM THEATRE SALUTE BOEING AND THE U. S. AIR FORCE! RANKING MILITARY AND CIVIC DIGNITARIES IN ATTENDANCE! MEET AND HEAR COL E. D. EDWARDS AND FAMOUS BOMBER CREW FROM STRATEGIC AIR COM­MAND! HEAR THE FAMOUS 560TH AIR FORCE BAND (43 PIECES) FROM McCHORD FIELD (The Television Stars)! COLOR GUARD PRESENTATION! DON ISHAM AT THE GIANT WURLITZER ORGAN! JACK GORDON AS MASTER OF CEREMONIES! A GREAT AFFAIR!


Boeing Tribute Exciting
By J. Willis Sayre
Seattle in general, and the Boeing Airplane Co. in particular will be taking bows just as long as "The Wild Blue Yonder" unrolls itself upon the screen of the Orpheum. That is because the story is a tribute to the Boeing Superfortress, the B-29, created right here and a real factor in the winning aerial fighting ol the Second World War.
The picture opened Tuesday at the Orpheum, an interval between two of the night showings being given over to a lively stage salute to Boeing involving Greater Seattle, Inc.; officers of the U. S. Air Force, the 560th Air Force Band, a color guard presentation and numerous military and civic higher-ups. Jack Gordon directed the festivities and Don Isham handled the music of the giant Wurlitzer organ.
"The Wild Blue Yonder" tells how the B-29 was created, how it was developed and how it won many a gallant victory in the Far Pacific. Pilots include Wendell Corey and Forrest Tucker, and Vera Ralston as the comely Army nurse who is the third member of a love triangle. The support­ing cast has such favorites as Walter Brennan and Ruth Donnelly.
The exciting action includes bomber raids upon Japan, the burning of a whole city, the de­struction of a Yank hospital ward and deeds of individual heroism. Much actual combat footage enhances the realism.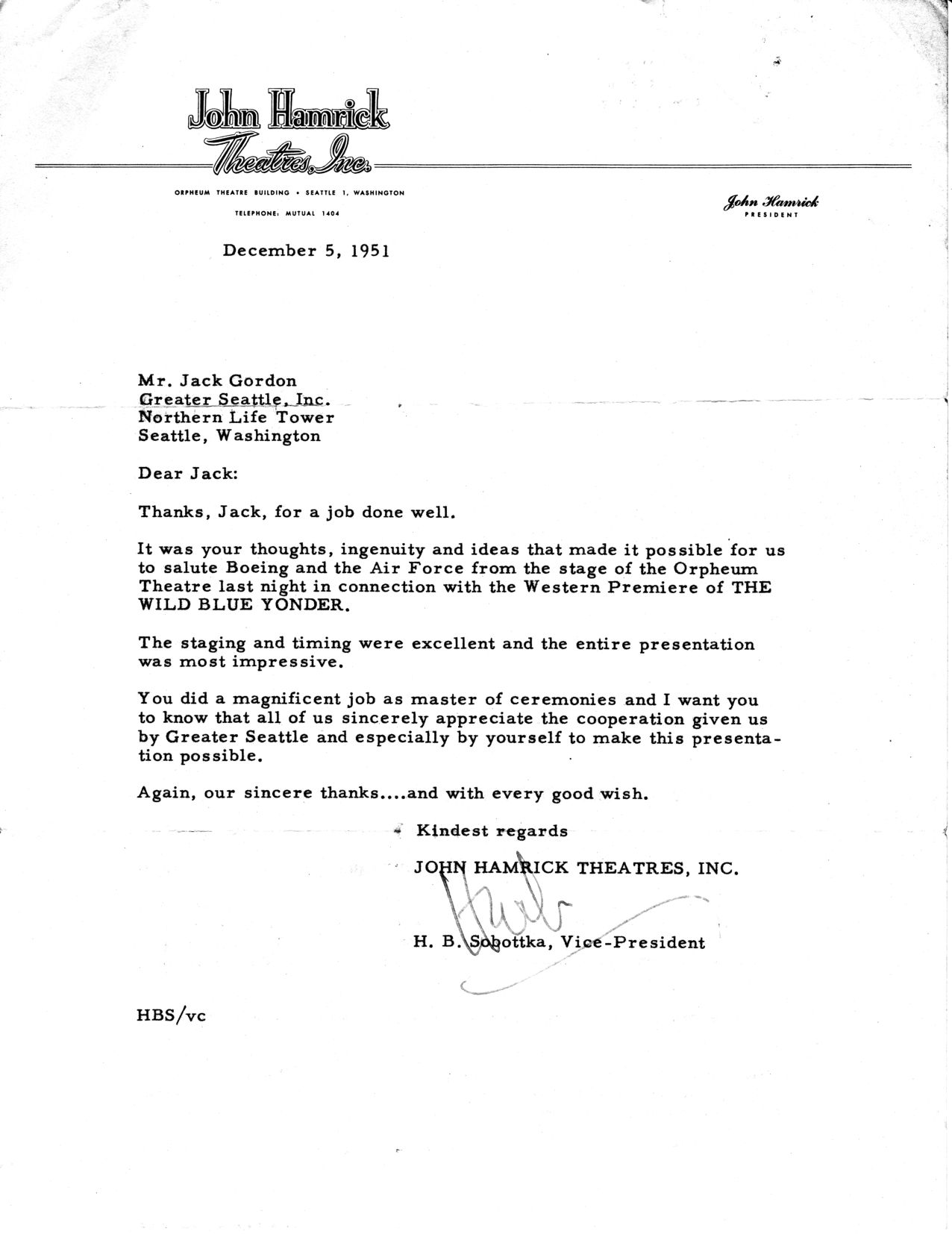 You are at JackGordon.org,
a salute to John F "Jack" Gordon, Mr. Seattle

Copyright © 2002-2016 John R. Gordon