Home > Jack Gordon welcomed visitors > Jack Gordon shops for Kennedy Baby

JackGordon.org
The September, 1960, Presidential Campaign Visit by U.S. Senator John F Kennedy
(From the Seattle Post-Intelligencer of Wednesday, September 7, 1960.)
Handsome Smile For Feminine Squeals:
Kennedy Gets 'Off-Season' Seafair Reception
BY ORMAN VERTREES
SEATTLE'S CRISP sea breezes, observed Sen. Henry M. Jackson yesterday afternoon, are a fine change from campaigning in the "hot and muggy East."
With that, the Washington senator introduced Democratic presidential candidate John F. Kennedy at an off­season version of Seafair in downtown Seattle.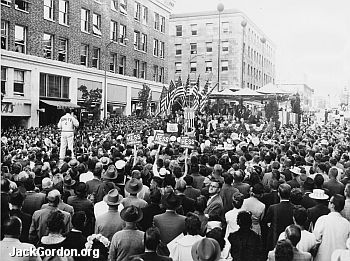 Seattle Times Photo
3000 Seattleites crowded Victory Square to see Kennedy
BEFORE THE FUNCTION was over, though, there were those who wondered if Seattle might not be noted for cool receptions as well as cool breezes.
A crowd estimated at 3,000 (7,500 estimated at Nixon's August 5 visit) pressed around the speaker's stand in the University Plaza but feminine squeals were more the mood than the "voice of the people."
IF KENNEDY WERE disappointed, it never was evident as he smiled handsomely in every direction, including 10 stories of ogling secretaries in windows of nearby buildings.
He gamely patted crew-cut little heads and. stretched over the railing of the speaker's stand to shake hands and satisfy autograph hunters.
Besides Sen. Jackson, Kennedy was flanked on the stand by Gov. Albert D. Rosellini, Mayor and Mrs. Gordon S. Clinton, George F. Kachlein Jr., president of Greater Seattle, and another strikingly handsome member of the Kennedy clan, Mrs. Peter Lawford, his sister.
THERE WAS SEAFAIR ROYALTY, too. And Queen of the Seas Mary Jo Erickson handed the Senator a little something for the expectant wife back in Hyannisport, Mass. — a white knitted baby sweater with little booties.
For the story behind the sweater and booties, it should be mentioned that these were hand-picked in a downtown shop by Jack Gordon, father, Seafair emcee and publicity director for Greater Seattle, Inc. Perfectionist Gordon went shopping himself after Greater Seattle Secretaries Phyl Jasperson and Jean DeVoe missed the mark.
KING NEPTUNE Rex XI (Ben E. Bowling) pinned a "Seafair Star of Neptune" medal on the Kennedy lapel while Seafair Prince of Mirth Tom Herbert waited near the shrubs for his big moment—presentation of a petrified dinosaur bone.
Herbert never got close enough to make the presentation despite a well-prepared script.
"I, as Prince of Mirth, of Seattle Seafair, dub thee, John F. Kennedy, 'No Dub' and I hereby present thee with this bit of 200-million-year-old bone from a Monoclonius (Clown) dinosaur."
GREATER SEATTLE resurrected the miniscule version of Seafair as a meticulously non-partisan "civic greeting" of the type extended Nixon earlier. But, as in the Nixon greeting, partisan politics reared its head. There were numerous "Kennedy for Presi­dent" hats, balloons and signs.
A NIXON MAN was nearly trampled when he went marching through the crowd with a big "America Needs Nixon" placard. Incensed Kennedyites tore the sign from the Nixon man and severely jostled his companion, Republican Dick Bushnell, 3045-3d Ave. W.
"This is a free country," Bushnell harrumphed, "and I'm on public property. I'm certainly surprised they're such fanatics about it."
Secretaries and others manning the nearby buildings windows tossed home­made confetti out over the crowd, unmindful of gobs here and there that splattered on the heads of secretaries and others a few windows below.
As for speeches by dignitaries, they amounted to a capsulized history of what makes Seattle and Washington State great.
George Kachlein talked of the 110 Seafair events, the parades and the unlimited hydroplane game.
Mayor Clinton told Kennedy that Seattle has problems but Seattle is solving them.
Governor Rosellini described our defense plants, lumber industry and upcoming Century 21 Exposition.
Senator Jackson praised Seattle's weather.
Senator Kennedy topped them all in a nine-minute speech in which he reminded every citizen of Washington that our B17s, B47s, B50s and B52s make or have made the free world stronger.
THEN, WITH THE efficiency that has marked the Kennedy organization, he concluded his speech five minutes early, shook another round of hands, patted more heads, handed out more autographs and, with the help of three muscular peace officers, fought his way into the Olympic Hotel.
(14 Months later, LIFE Magazine featured JohnJohn Kennedy in a cute white outfit. Who could it have been a gift from?)
You are at JackGordon.org,
a salute to John F "Jack" Gordon, Mr. Seattle

Copyright © 2002-2015 John R. Gordon