Home > Welcoming Visitors
JackGordon.org -- "Mr. Seattle"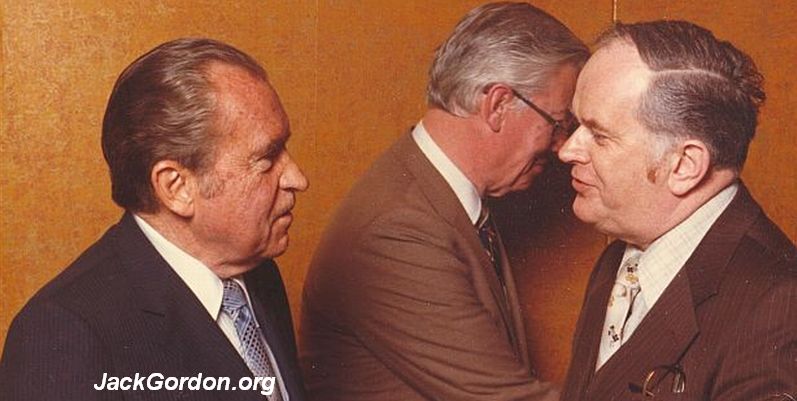 Photo by Steve Reed Photography, Seattle
With U.S. President Richard Nixon during a Nixon visit to Seattle in early 1980s.
Jack Gordon welcomed visitors

World Heavyweight Champ Jack Dempsey
Jack Carson, Jack Gordon, and Roberta
Candidate Kennedy's 1960 visit. Read how Jack selected a present for "John John" LIFE's (not) coverage
Richard Nixon: 1960 Gordon Welcomes Presidential Candidate, Candidate Nixon returns in 1968
Crown Prince Akihito of Japan, 1960
President Kennedy's November, 1961, visit to Seattle
Bob Hope visited Seattle
Raymond Burr's 1962 Visit
Visits by Astronaut Richard Gordon, Gordon's Honor Dinner caps his 1966 Visit
Ronald Reagan -- the 60s and the 80s
"The Seattle Post-Intelligencer asked Jack Gordon, official civic greeter for Greater Seattle for almost 20 years to "cover" the 1968 campaign visits of major polotical candidates to Seattle." Gordon covered campaign stops by Governor Rockefeller, Sen. McCarthy, Sen. Robert Kennedy, Richard Nixon, VP Humphrey, and Gov. George Wallace.
Candidate Nixon returns in 1968
Presidential Candidate Rockefeller, 1968
Sometime in the 1970s, Queen Sofia of Spain visited Seattle
U.S. President Gerald Ford, September, 1975, and October, 1976, and again in April, 1980
Former President Nixon returns to Seattle, 1980
Elizabeth, The Queen of England,1983
West German President Carstens in 1983
Win Schuler of Schuler's Restaurants, Michigan