Home > Navy > Navy Columns > Chief Stent Man of the Year

JackGordon.org
PAGE SIX
THE SKY-WRITER, PASCO, WASHINGTON, WEDNESDAY, FEBRUARY 9, 1944
Chief Stent Named Man of the Year
BRITISH-AMERICAN WINS STATION SPORTS AWARD
Hail to the Chief!
British - born Chief Reginald Stent was chosen Man of the Year in sports aboard the Pasco Naval Air Station last Thursday at the first annual meet conference of the award.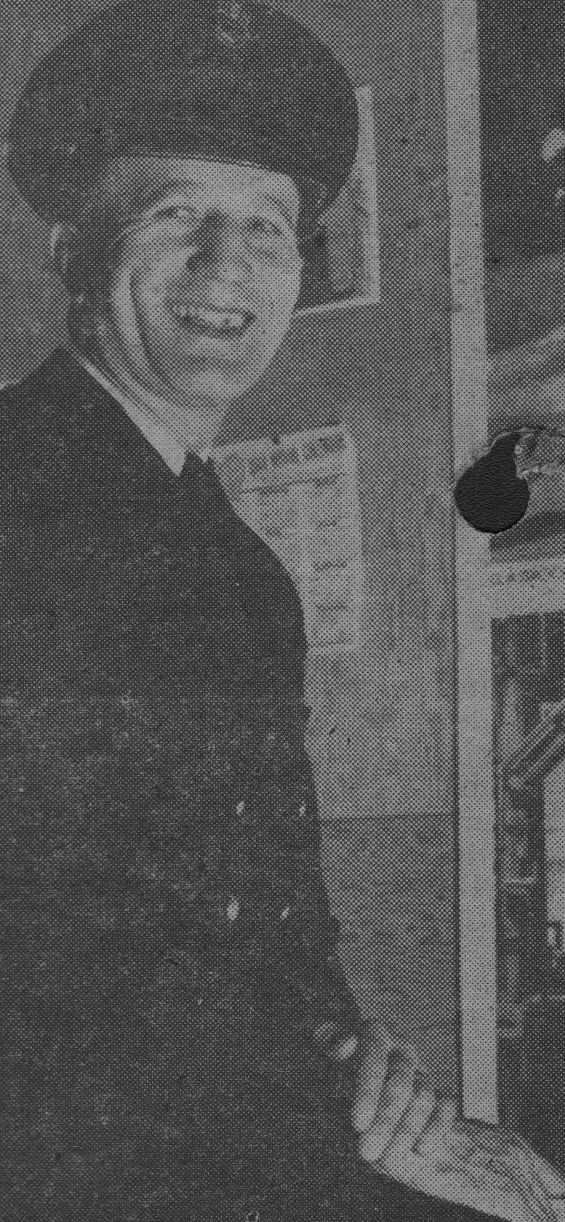 CHIEF STENT
The Winner
The trophy, tribute to the individual who contributed most to the Athletic prestige of this station in 1943, was awarded Chief Stent at a banquet held in the auxiliary mess hall by Lieut. Douglas Kirk, chairman of the board of judges which included Lieuts. Karl Monson, W. W. Mc-Kalip and William Culliton.
The "Man of the Year" contest, sponsored jointly by The Sky-Writer and the Welfare Office, was thus brought to a successful conclusion after a four-week campaign during which ballots from over 70 percent of the station per­sonnel were cast in nominating candidates for the honor.
Besides nominees Marv Harshman, Don White, Steve Ananicz, Larry Hannon, Cliff Dalthorp and Johnny Haines, the guests for the banquet included: Lieut. Comdr. B. M. Turner, Lt. Comdr. John McVay, Lieut. D. F. Thomas, Lieut. E. H, Reeder, Lieut. N. S. Everett, Lieut. Harold L. Proppe, Lieut. Howard Greer, Lt. (jg) Robert Buckley, Lt. (jg) James Speaker, Joe Spadafore, Danny Escobar, Photographer Jack Ramsdell and Stan Blumenthal.
Nominating speeches in behalf of the candidates were made by the officer-guests after which the judges retired to make their decision.
The winner, Stent, is a former Portland, Oregon Athletic Club owner and ex-amateur heavy­weight Champion of the London Metropolitan Police force. He also served as a member of Scotland Yard.
Aboard this station Stent has been particularly active in the promotion of station smokers, training and instructing would-be Navy boxers as well as directing a Waves' athletic program and several of the intra-station sports.
Unselfish in the devotion of his free time to the cause of athletics Chief Stent has the qualifi­cations of all Man of the Year standards.
With all due respect to the seven other athletes who advanced to the finals, the decision of Chief Stent is one that is agreeable to all.
No better choice could have been made.
See Jack's Regular "Swabbin' the Deck" column for February 9, 1944
You are at JackGordon.org,
a salute to John F "Jack" Gordon, Mr. Seattle

Copyright © 2002-2014 John R. Gordon