JackGordon.org
Jack Gordon coordinated many
Presidential Visits to Seattle
Jack Gordon is escorting Democratic Presidential candidate Adlai Stevenson through the exhibits at the 1952 Washington State International Trade Fair. Stevenson's two sons are directly behind. Stevenson visited the Trade Fair held at the Civic Arena on September 8.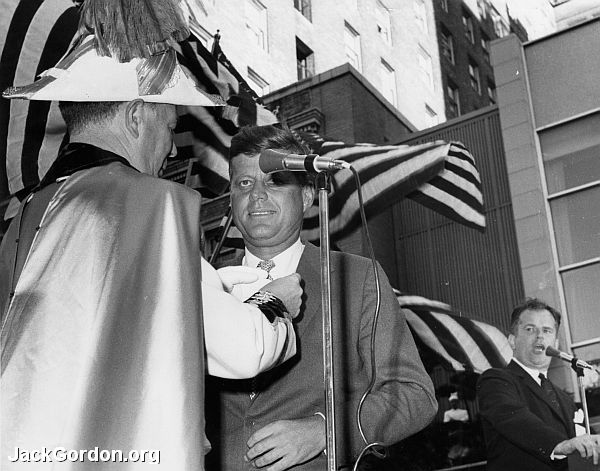 (Photo courtesy of the Greater Seattle News Bureau.)
Senator Jack Kennedy was "pinned" by Seafair's King Ben Bowling during his November,1961, visit to Seattle. Kennedy planned to return to Seattle during the Century 21 World's Fair in 1962, but the "Cuban Missile Crisis" got in the way. That's Gordon on the microphone. The program was held in Seattle's Victory Square located on University Street between 4th and 5th Avenues and opposite Victor Rosellini's Four-10 Restaurant. Kennedy followed this program with a speech at the University of Washington to honor their 100th Anniversary and ended the day back at the Olympic Hotel with a dinner celebrating U.S.Senator Warren G Magnusen. More pictures of Kennedy's whirlwind trip to Seattle are available on this site.
Photo by Steve Reed Photography, Seattle
During a visit in the 1980's Richard Nixon listens to Gordon.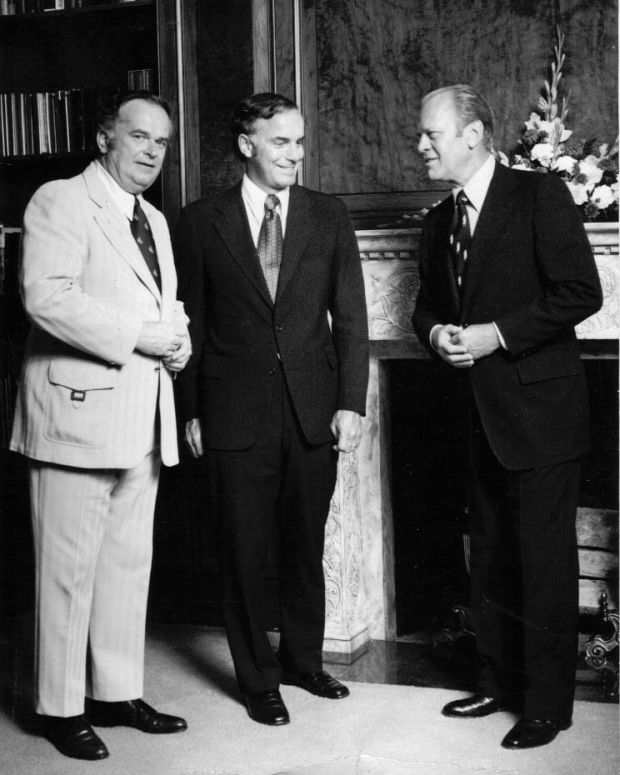 During a quick visit in October, 1976, we have a full length view of RASW Exec. John F "Jack" Gordon, Governor Dan Evans, and President Gerald Ford. (Photo Credit to Wm J Murray III of Seattle)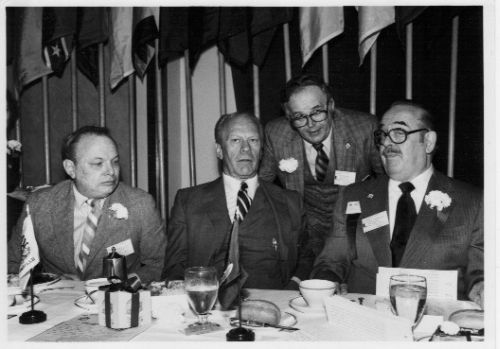 In 1980, Jack brought in former President Gerald Ford as the Keynote Speaker
for the Pacific International Hospitality Show. Left to right are NRA President Bob Power of the Nut Tree Restaurant, Vacaville, California, President Ford, Jack Gordon, and RASW's perennial Convention Chairman Victor Rosellini.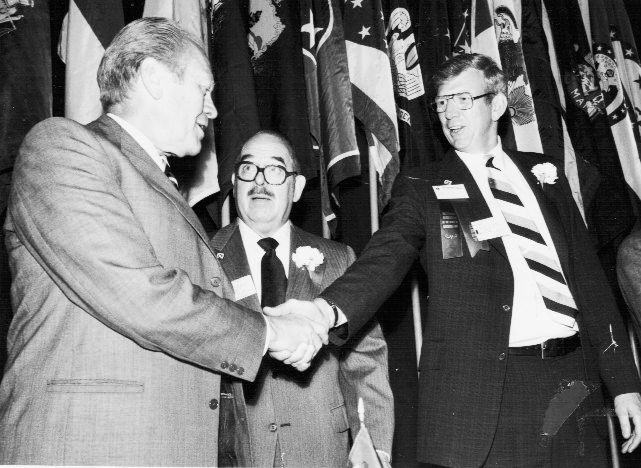 It's a good thing that there were several levels of head tables. Here's President Gerald Ford during his 1980 visit to the Restaurant Convention, shaking hands with Bruce Attebery along with a benevolent Victor Rosellini looking on.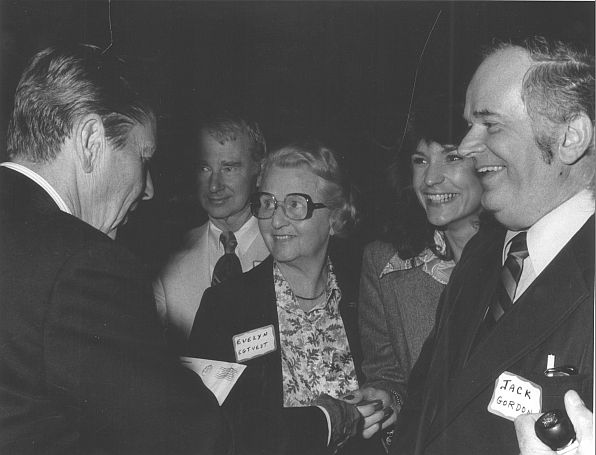 A jovial Jack Gordon welcoming Ronald Reagan. Also greeting the President was Evelyn Egtvedt.
You are at JackGordon.org,
a salute to John F "Jack" Gordon, Mr. Seattle

Copyright © 2002-2016 John R. Gordon