JackGordon.org
In No Particular Order....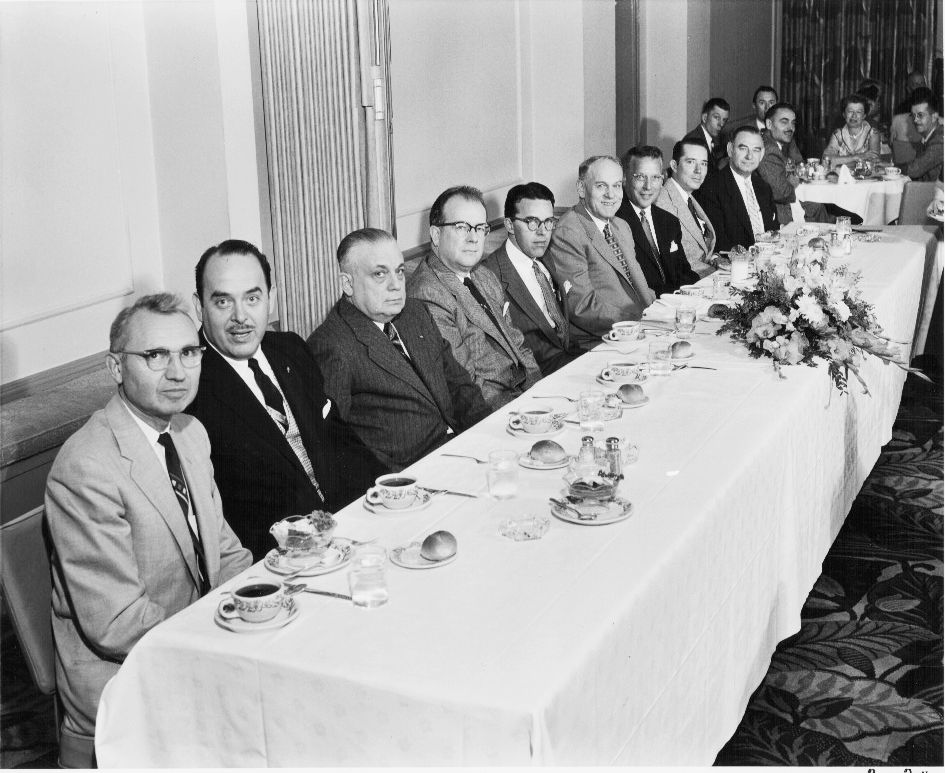 From 1955 and the Allied Food and Beverage Magazine, we have a photograph of the Class H Association's Annual Meeting.
This appears to be the Head Table, so I'm going to guess that these are probably their board members.
I feel a bit guilty that I'm unable to identify more than a few of these people, but this picture is almost as old as I am.
From our Left to right we have unidentified, Victor Rosellini, unidentified, unidentified, Edward Carlson (Western Hotels), unidentified, unidentified, unidentified, Walter F Clark of Seattle.
(Photo by Roger Dudley, Room 64 of the Cobb Bldg, Phone MA. 8878)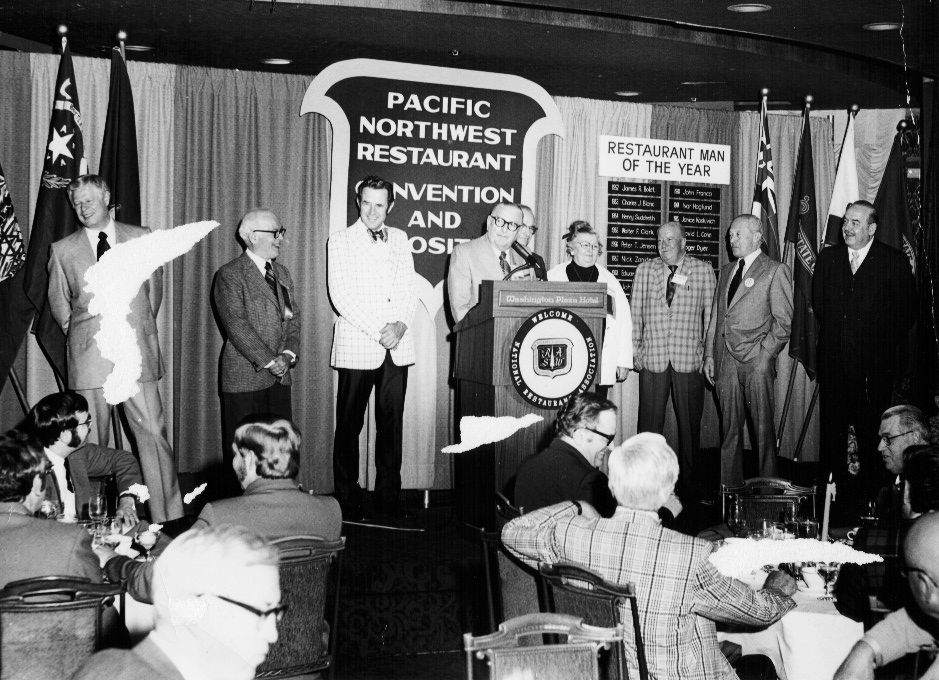 This photo is either from 1973 or 1974. If it's 1973, then that's Western International Hotel's and the Olympic Hotel's Al Schilling accepting his Restaurant Man of the Year Award. If it is 1974, then Al is talking about Norma Tei Duras who is being honored and has not yet been called to the stage. I'm leaning towards 1974 because of the Pacific Northwest Restaurant Convention plaque hanging in the background and the podium that says "Washington Plaza Hotel", which was in Seatle.
On stage are Dave Cohn (1966), Seattle, Joe Bradley (1971), Pullman , Max Dale (1976) of Mount Vernon, Al Schilling at the podium, an unidentified man behind Al, Janice Koskivich Flowers of Federal Way and later Shelton, Ivar Haglund, John Franco, and Victor Rosellini. RASW's Exec VP Jack Gordon is sitting at the front table laughing at Al's joke.
Identifying the previous winners makes me think that this may (must ?) be later than either 1973 or '74 as otherwise our 1976 winner, Max Dale of Mount Vernon wouldn't be on stage. If I could just get Ivar to move so we can see the last name on the Man of the Year plaque. 1976 works with the Restaurant Convention being held in Seattle.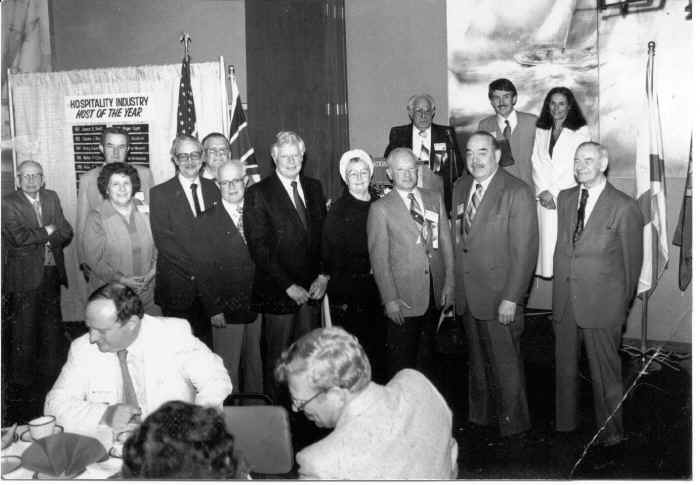 Many of the Hospitality Industry Hosts of the year gathered.
Left to right are 1976 (Bicentennial) Gil Ridean (Seattle), 1976 Max Dale (Mount Vernon), 1974 Norma Tei Duras (Tacoma), 1972 Bill Pardee (Everett), 1975 Jim Willis (Port Angeles), 1971 Joseph Bradley (WSU, Pullman), 1966 Dave Cohn (Seattle), 1965 Janice Koskivich Flowers (Shelton), 1963 John Franco (Seattle), 1960 Victor Rosellini (Seattle) and 1955 Walter F. Clark (Seattle). On stage are 1977 E.J. Zarelli (Fife) with 1980's Jerry and Angie Burtenshaw (Bellevue)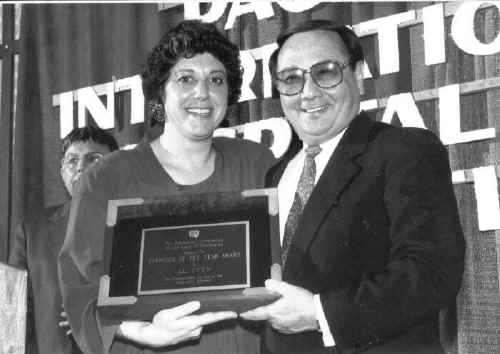 Receiving his Supplier of the Year Award from Rainier Beer's Carol Masnik is Al Yuen of Hospitality Commercial Investments.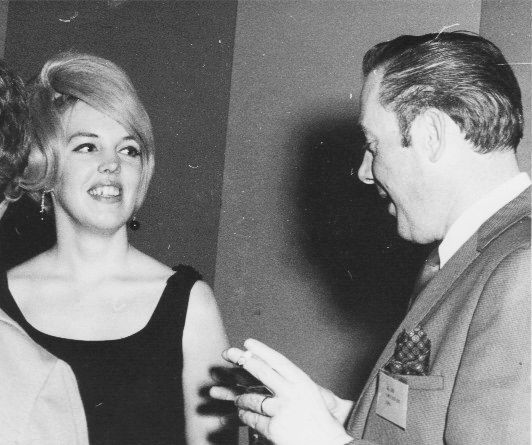 An amused Kristi Lee of RASW listening to Jerry Craig. At the time this picture was taken, Jerrry owned the Burger Haus in Olympia. Later, he expanded the Olympia Oyster House Restaurant chain.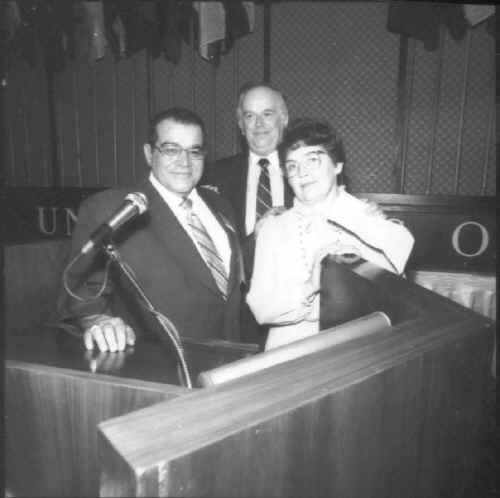 1984-85 RASW President and Later Host of the Year Al Aronica with Jack and Roberta.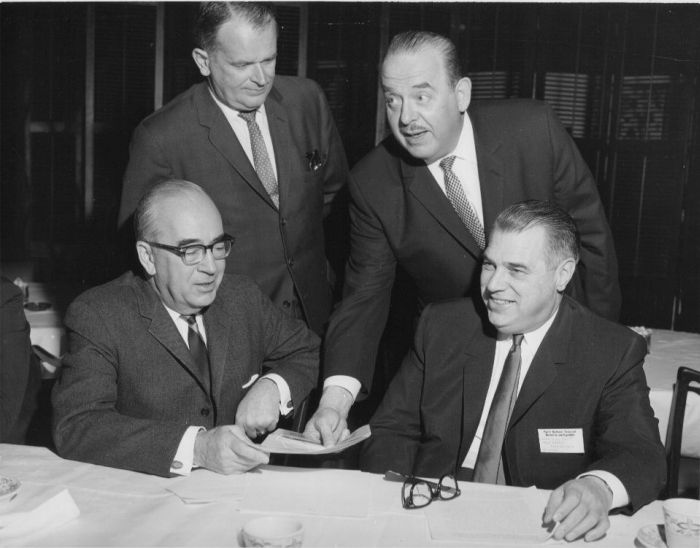 Seated and standing around the table at the 1966 Restaurant Convention
are (unknown), Jack Gordon and Victor Rosellini (both standing), and Leslie Scott of Fred Harvey Restaurants,
Chicago. (Photo Credit to Bob Miller of Seattle)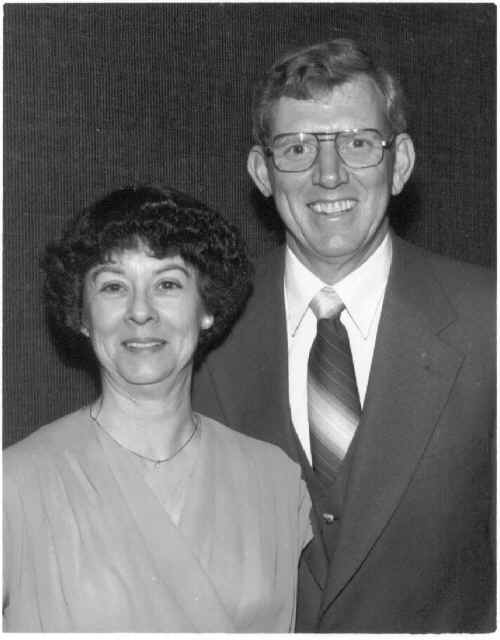 1979 RASW President Bruce and Beverly Attebery (Black Angus Enterprises).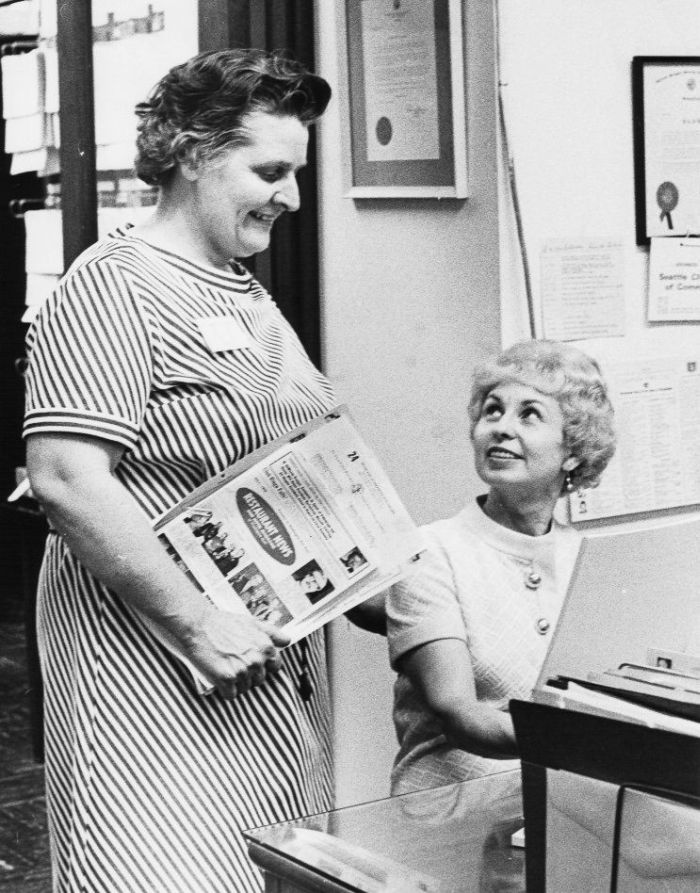 Here is Margie Lowrance of the FEAST (Food Education and Service Training) Program (standing) in Olympia
with Corky Mortimer of the Restaurant Association staff.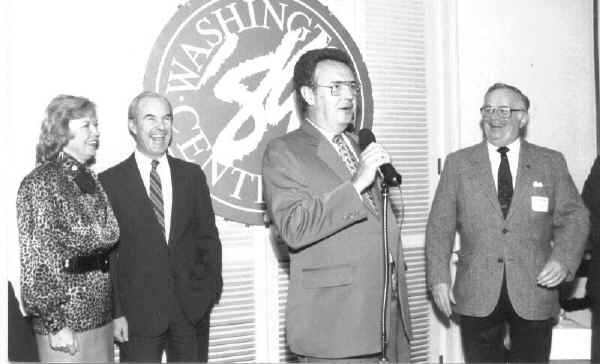 Dick Roach (Super 8 Motels) at a Washington Centennial event with Gov. and Mrs. Booth Gardner and Jack Gordon.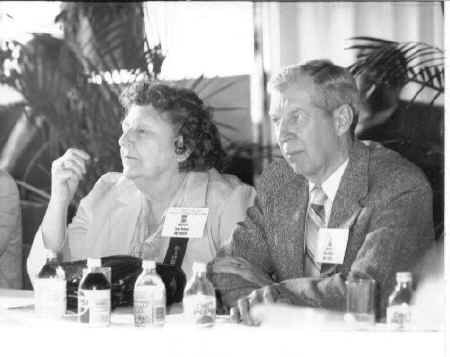 Norma and and a skeptical John Duras of the Jubilee Hamburger Drive-In, Tacoma.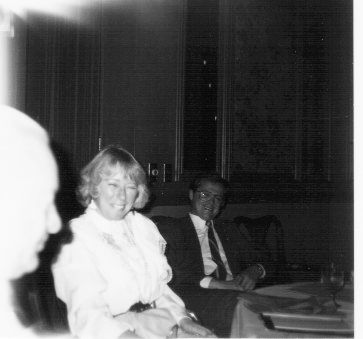 A bit over and under exposed, here's a picture from the early 1980's. A smiling Georgie Schweitzer, general manager of the Downtown Seattle Hilton Hotel and in the background is Frits Gehner, food and beverage manager of the Westin Hotel, Seattle. Here's an undated article on Gehner and the Holland American Line.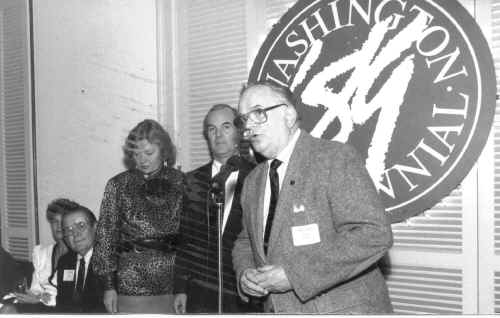 Jim Willis (Aggie's Inn and restaurant, Port Angeles) watches Gordon introduce the Gardners.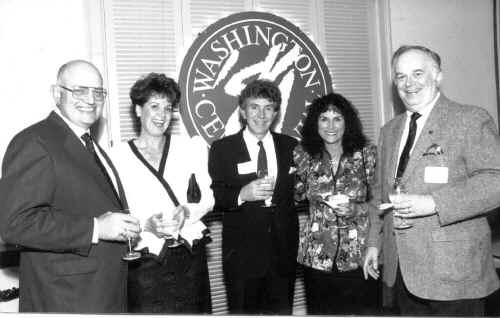 Ben and Wanda Goldie (The Cottage Cafe, Cle Elum) join Jerry And Angie Burtenshaw of Redmond, and Gordon.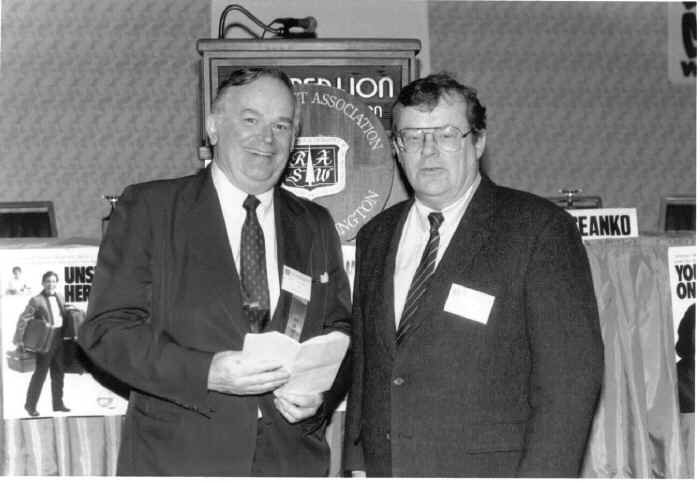 Gordon and Chuck Quinn (Charlie's Restaurants in Seattle and Patsy Clark's, Spokane)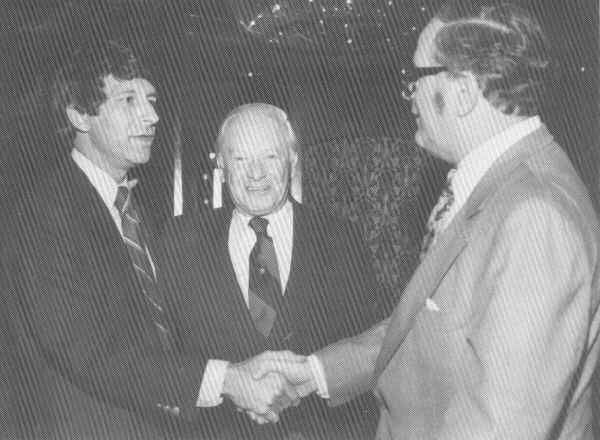 "Now Shake Hands and Come Out Swinging."
John Franco (Franco's Hidden Harbor, Seattle) counsels Seattle Mayor Charles Royer and Gordon.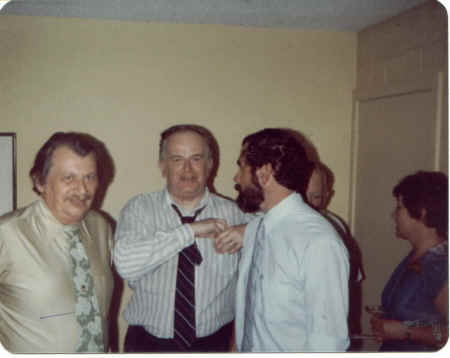 Bob Russell (Kebo's Restaurant, Moses Lake) on right
Unless otherwise mentioned, photo credit on the black and white pictures is John E Walker, Seattle.
The Also Seen on Listing seen on
Al Aronica can also be seen with Jim Willis
Bruce Attebery welcoming President Ford.
Max and Pauline Dale are on the Legislative Gala Page
Bill Pardee can also be seen with Jim Willis
Victor Rosellini has his own page of pictures, plus he's on the Century 21 World's Fair page and on the Jack welcomes the Presidents and also here. He's posing with Jack's first grandson. Victor was perennial Restaurant Convention Chairman
Jim Russell can also be seen with Jim Willis
Jim Willis has his own page of pictures
Ivar Haglund is on the National Split Pea Soup Week page. He watches fireworks with Jack's daughter Mary and her first child
You are at JackGordon.org,
a salute to John F "Jack" Gordon, Mr. Seattle

Copyright © 2002-2103 John R. Gordon