Home > Restaurant Association People > Victor Rosellini

JackGordon.org
Victor Rosellini, Seattle
Born in Tacoma to parents from Italy, Victor Rosellini (1915-2003) was one of the handful of restaurant operators in the 50s and 60s who made Seattle dining what it was. A cousin to Governor Al Rosellini and a brother to Dr. Leo Rosellini. An obituary in Nation's Restaurant News named him the "Dean of Seattle's Fine Dining."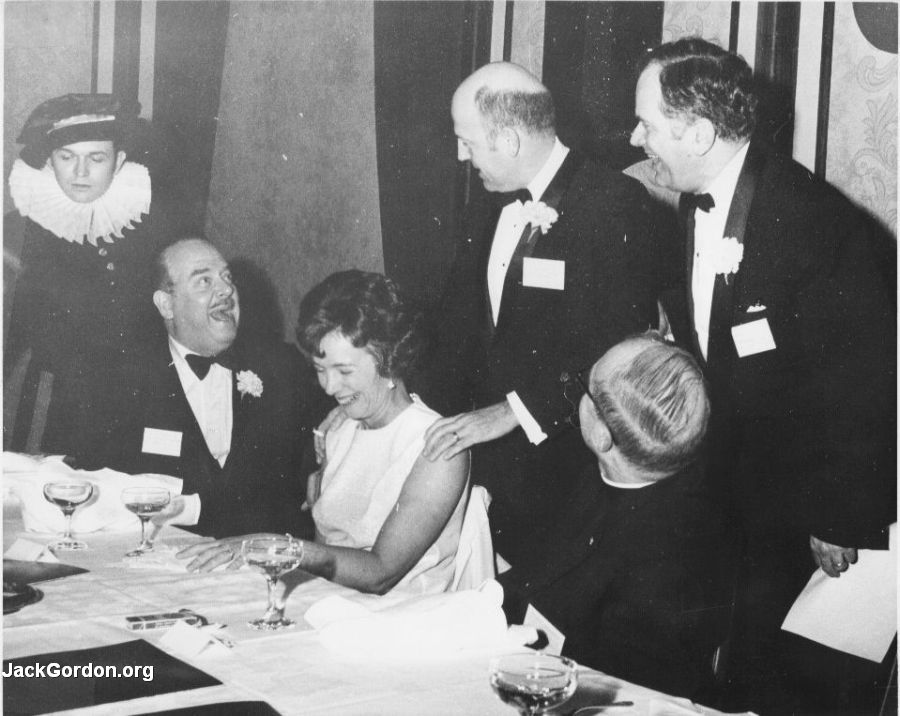 It must have been a great joke!
From an early Legislative Gala (known as Testimonial Dinners in the beginning), we have a waiter, a very happy Victor Rosellini, an unidentified man and woman, Jack Gordon, and it looks like Englebert M. Axer, S.J. seated.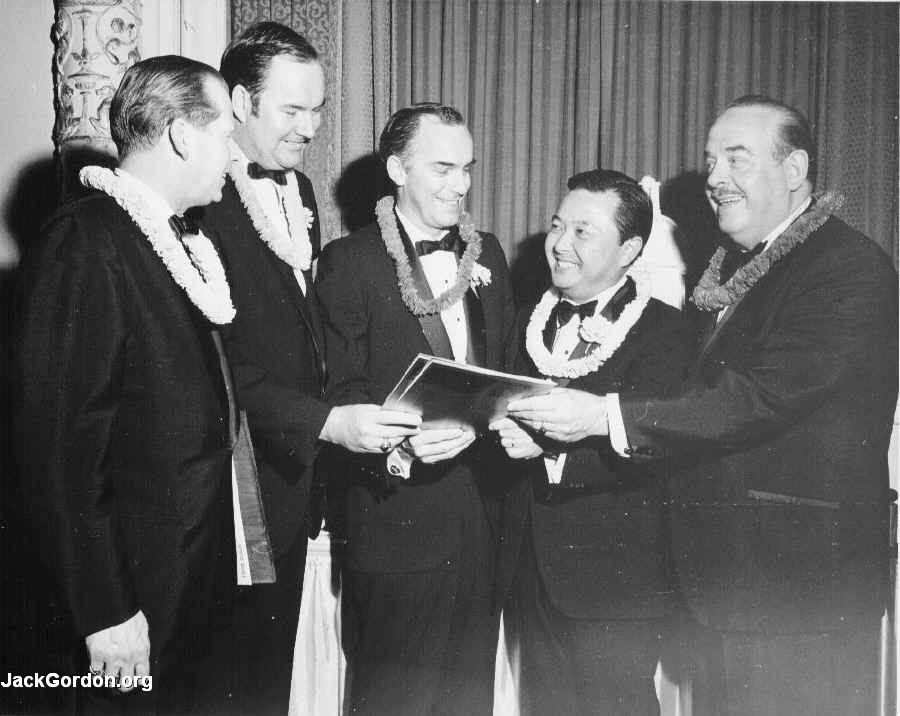 Photo by "Bob Miller of Seattle."
1969 and We have another jovial group. They are all wearing leis and from the fancy pillar on the left, this event is taking place in a Chinese or other oriental restaurant. Left is an unidentified man, Dick Brown of the National Restaurant Association, Gov. Dan Evans, U.S. Senator Inouye of Hawaii, and our man of the page Victor Rosellini.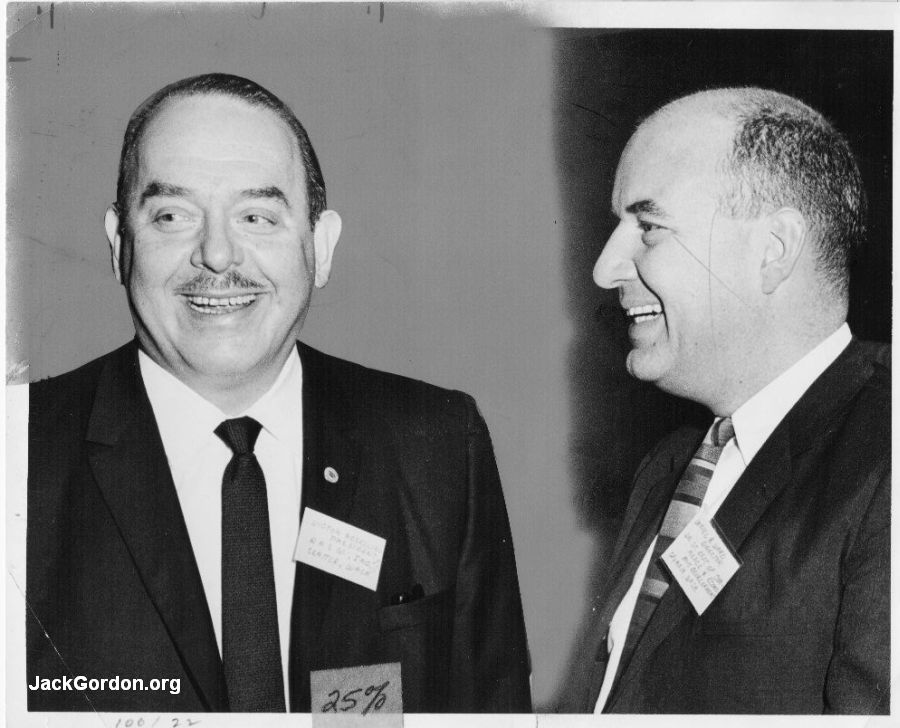 Photo by "Bob Miiller of Seattle"
From the mid 1960's, have this shot of Victor, while he was president of RASW, with Daniel B Ward, Director of Commerce and Economic Development in Olympia. Notice the even, flat grey background behind Victor? It's pre-photoshop photo editing.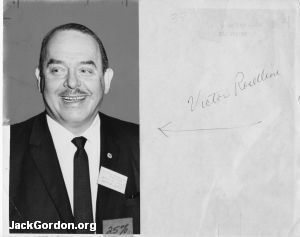 Here's the picture as it was in the files. Mr. Ward's been covered up and Victor has been identified. Mr. Ward's been "Xed" out on the photo just in case the paper fell off. The gray background was painted on the photo so that when it's re-photographed and screened for printing there are no annoying reflections.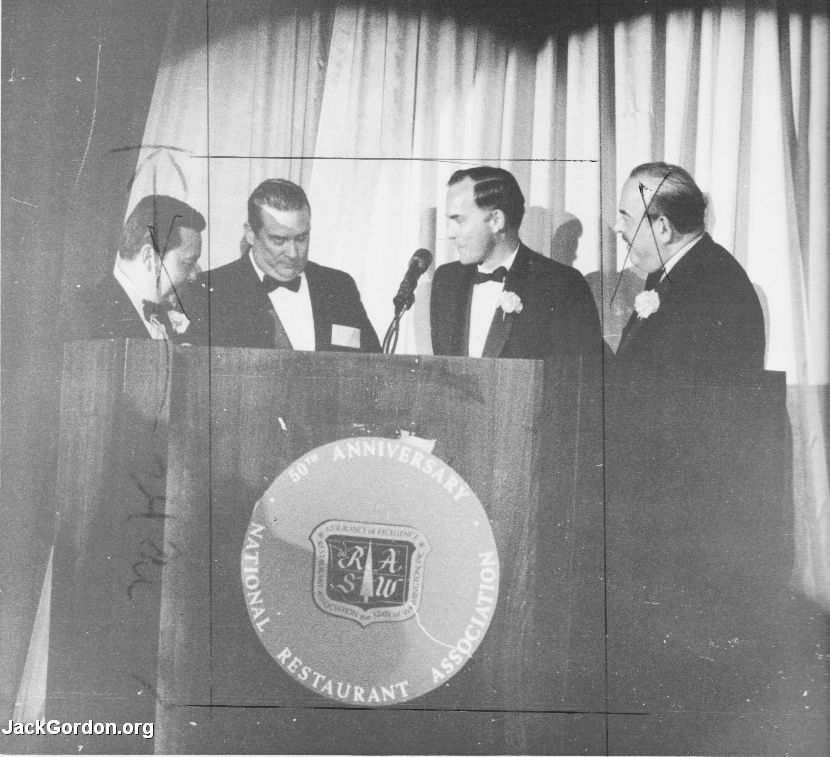 It's a bit blurry and half the participants have been x'ed out, but I can sort of date this picture. The National Restaurant Association was founded in 1919, so most likely this picture was taken at the 1969 Testimonial/Legislative Dinner. From our left to right, we have an unidentified man, another unidentified man, Washington State Governor Dan Evans and Victor Rosellini. The crop marks on the picture were to let the photo engraver know what was going to end up in the Restaurant News magazine.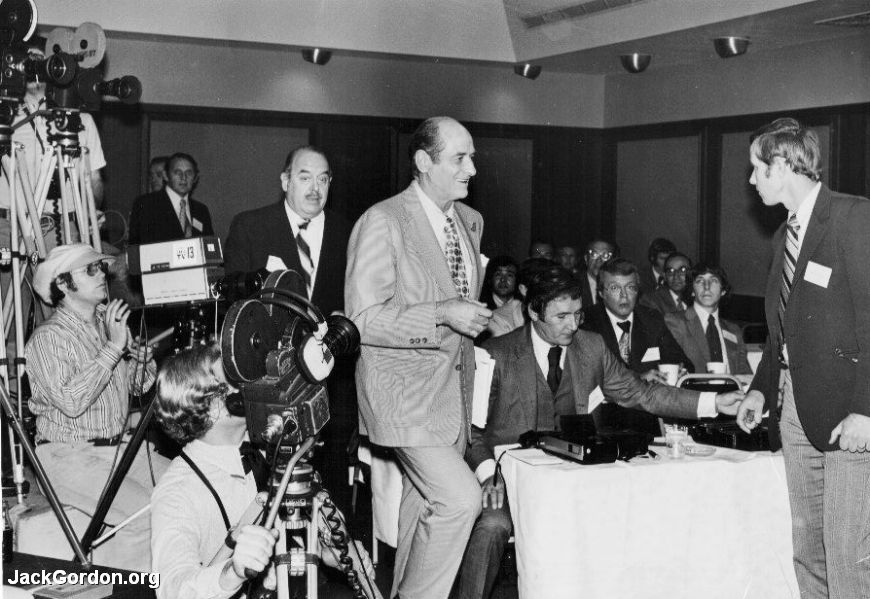 Here's Victor escorting his cousin Al Rosellini to the stage for Al's participation in the 1972 Gubernatorial Debate between Al and incumbant Gov. Dan Evans. Here are more Gubernatorial Debate pictures.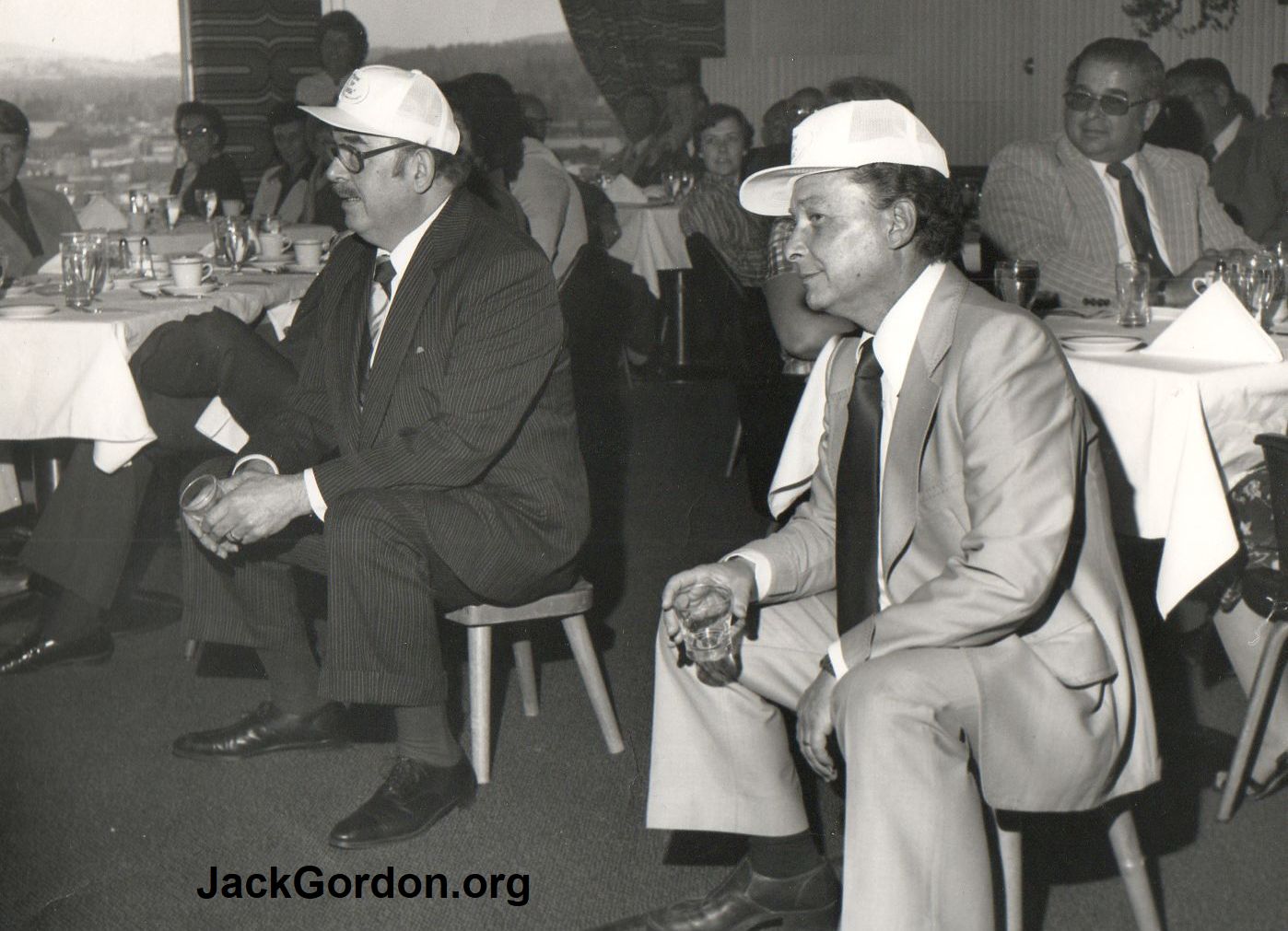 SHERM BLAKE PHOTOGRAPHY, CHENEY WA
I'm not sure of the year, but the sideburns look pretty 1970s to me. I'm also not sure where this picture was taken or who's got the stool next to poor Victor, but the photog's from Cheney.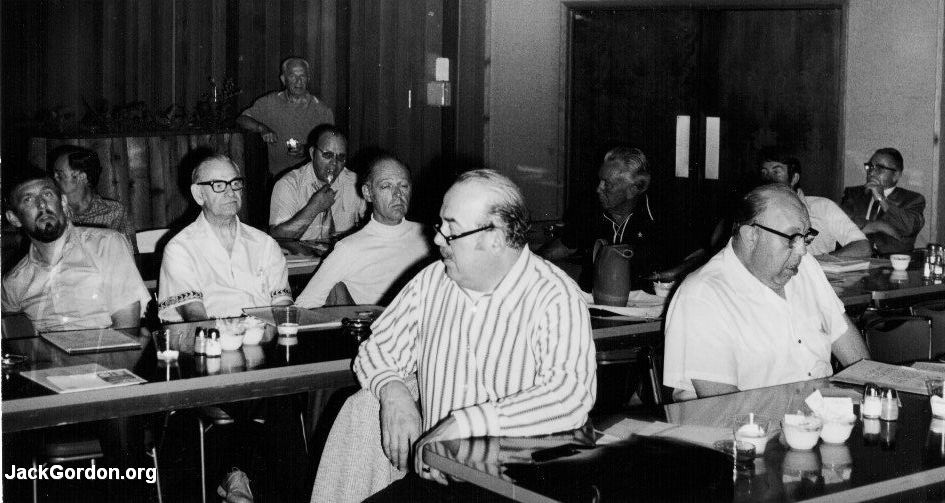 This must have been one truly exciting meeting. While the orientation of the tables looks like this photo was shot from the front of the room, half the people are looking towards their right. Look at them... In the front row, Victor is obviously upset at someone. Next to him, Bill Jensen (of King Oscar's in Seattle) is busy perusing the lunch menu. The second row has Charles Noble, RASW's VP of Marketing, in an obvious trance. It looks like Walter Clark to his right then an unidentified man sleeping away. Behind "Mr. Sleepy Eyes" is a restaurant operator practicing hanging a spoon off his tongue and standing at the back of the Room is Vince Galvin.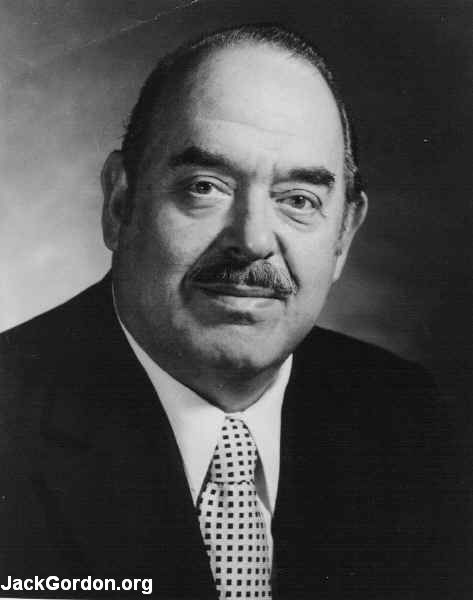 Honored by his peers on a national level, Victor Served as President of the National Restaurant Association in 1977. Here is his official photo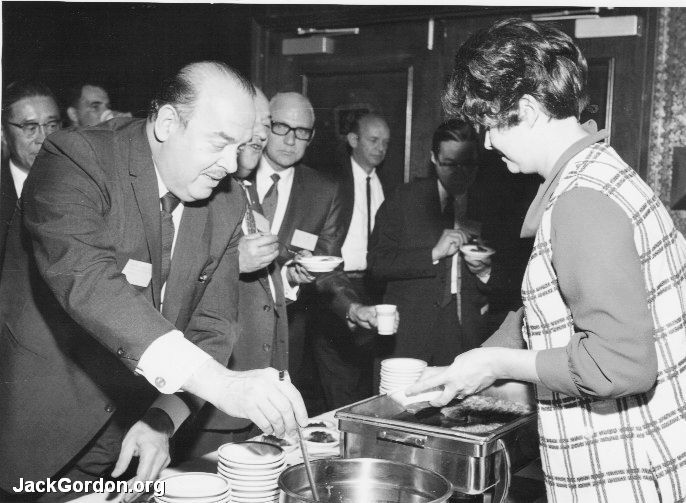 An RASW Board of Director's breakfast?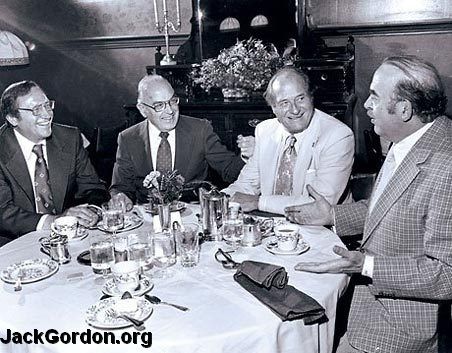 In this Seattle Times photo taken at the Four-10 Restaurant out on Seattle's Denny Regrade are a quartet of Rosellinis. State Supreme Court Justice Hugh, Victor's brother Leo and cousin Governor Al and Victor. Hugh shared a name but was not related to Victor.
You are at JackGordon.org,
a salute to John F "Jack" Gordon, Mr. Seattle